No longer the inaccessible centre of a faltering Soviet machine, Moscow today represents a potent blend of the old and the new. With a rich history, cutting-edge culture and a thriving food scene – along with a heady dose of glamour – it's an ideal destination for a special weekend getaway.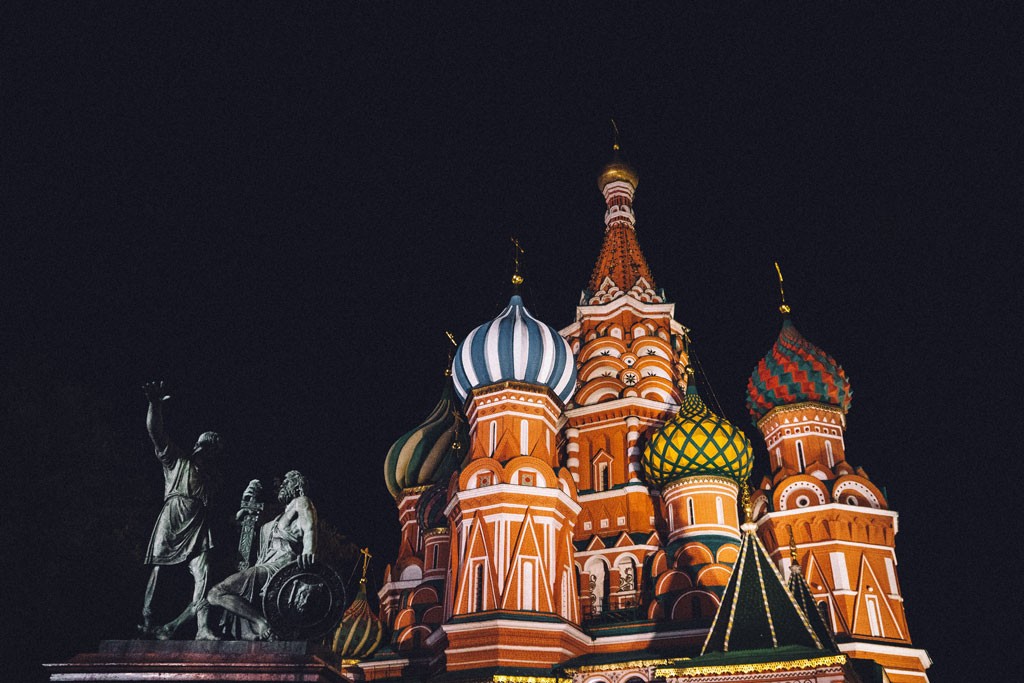 Where to Stay in Moscow
The Four Seasons
If it's elegant, caviar-and-champagne luxury you're after, there's no place better than the Four Seasons, occupying the lucrative site of the legendary 1930s Moskva Hotel, steps away from the Red Square. As well as a glamorous bar and first-rate spa – green caviar facial, anyone? – you can expect personalised service and quietly luxurious suites, some with extraordinary views of the Kremlin. fourseasons.com
Hotel Metropol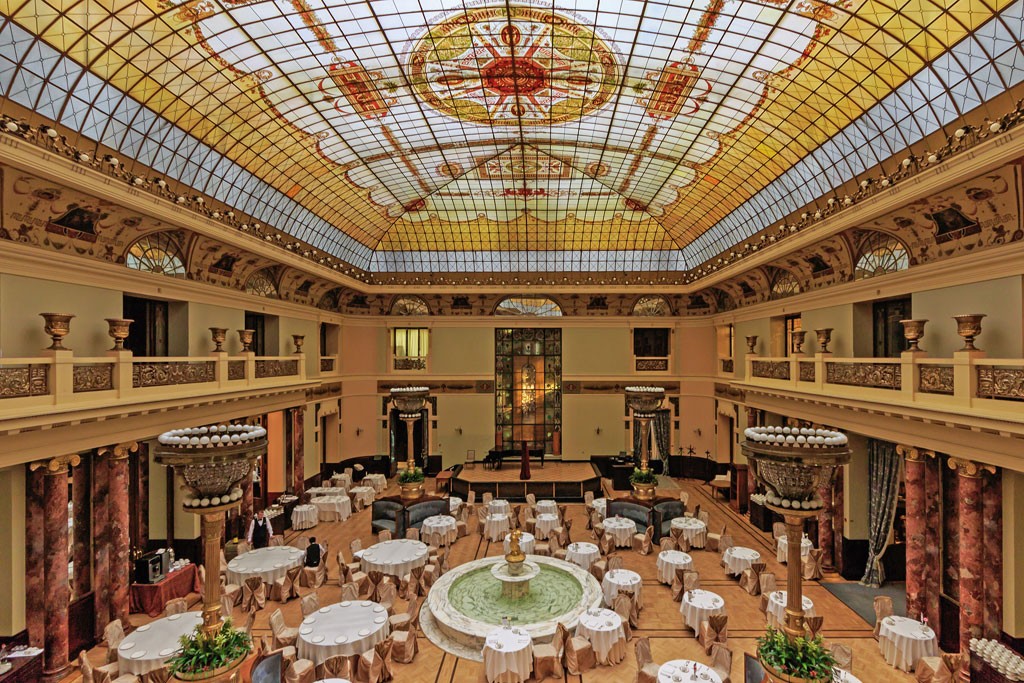 Opened in 1905, this historic Art Nouveau hotel has borne witness to the tumultuous events of Russia's 20th century – you can even spot it in an iconic photograph of Lenin giving one of his agitating speeches. Each of its 35 rooms is uniquely configured and decorated, every one oozing old-school opulence and charm. Located opposite the famous Bolshoi Theatre, in the heart of old Moscow, it's perfectly positioned for shopping and cultural pursuits. You might also recognise it as the setting of Amor Towles' bestselling A Gentleman in Moscow. metropol-moscow.ru
The Ritz Carlton
Easily the glitziest hotel on the list, the Moscow Ritz offers five-star services in appropriately opulent surroundings. Located just off the Red Square near the boutiques of Tverskaya Avenue, its glass-enclosed rooftop bar serves award-winning cocktails with views over the Kremlin. Treat yourself to a day of indulgence by signing up for the exclusive personal shopping service at one of the big department stores, before heading to the luxurious spa for a La Prairie treatment. ritzcarlton.com
Where to Eat in Moscow
One of the capital's most iconic dining spots is Café Pushkin, a glittering jewel box of a restaurant painstakingly re-created to resemble the home of an 18th century aristocrat. Dress up and enjoy an evening of classic Russian dishes from borsch to beef Stroganoff in fabulous, museum-like surroundings that manage to stay on the right side of stuffy. If you can't get enough of the carb-based local cuisine, Grand Café Dr Zhivago is another elegant option.
For those less willing to subsist on a diet of dumplings and the ubiquitous pirozhky (pies), Moscow's growing foodie scene has plenty of options worth exploring. Stylish neighbouring restaurants Ugolëk and Severyane are local favourites, both bringing a creative approach to traditional and European cuisine with delicious results. Danilovskiiy Market, where well-heeled Muscovites do their weekly shop, has some of the best street food in the city.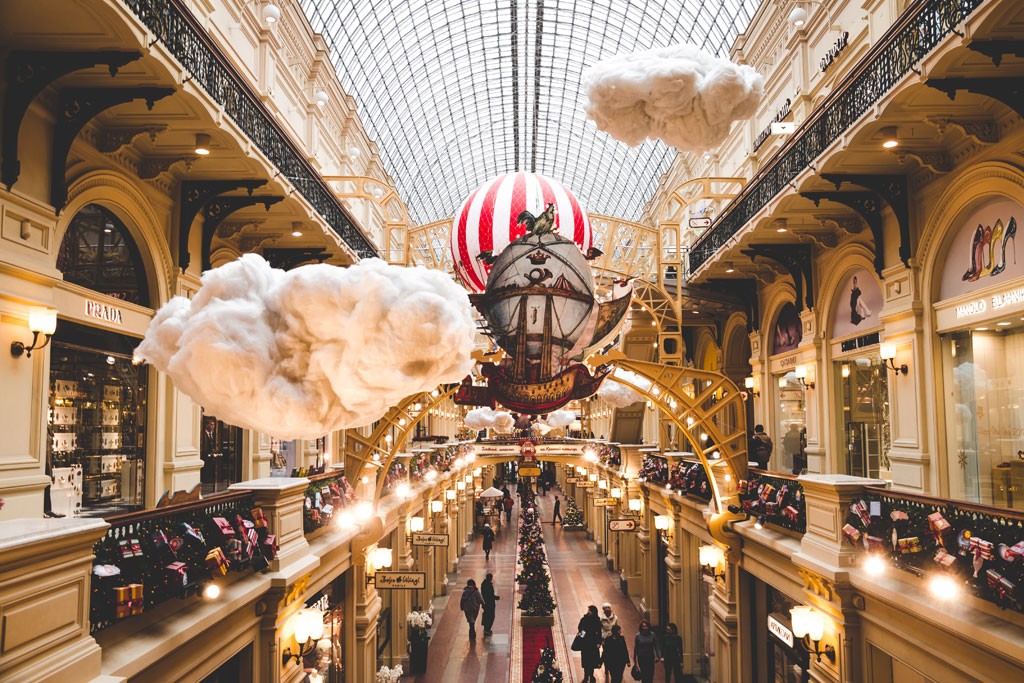 What to See in Moscow
No trip to Moscow feels complete without a wander around the Kremlin and Red Square. Unless you're a serious history buff with a taste for the macabre, give Lenin's Mausoleum a miss and head to the State History Museum (offering tours in English), or the colourful St Basil's Cathedral. Just as pretty in real life as in photographs, legend has it that Ivan the Terrible blinded the cathedral's hapless architect to prevent him from ever making something more beautiful. While you're there, step inside the gloriously over-the-top GUM, the bedazzled department store opposite the Kremlin. The Russian answer to Harrods, its long galleries house numerous luxury designer boutiques; make like the Russians and enjoy a classic GUM ice-cream as you window shop.
To see the Russian 'Old Masters', the Tverskaya Gallery is an old-school institution with a large collection of Repin and Vasnetsov's scenes from Russian history and folk culture, romantic paintings by Bryullov and Aivazovsky's seascapes. The stately Pushkin Museum, showcasing classic works by European artists from Degas to Van Gogh, is also worth visiting.
Dozens of feet below the main action lies the Metro, Moscow's cheapest – and most beautiful – gallery. A vision of marble, mosaic, columns and crystal chandeliers, the opulent appearance of the capital's underground was one of Stalin's more reasonable ideas, now making for unmissable viewing. Must-see stations include Ploshad' Revolutsii, lined with bronze statues of revolutionaries (rub the dogs' noses for luck), the yellow-ceilinged Komsomolskaya, Kievskaya, Novokuznetskaya and Arbatskaya – though in truth most central stations are grander and more spacious than their European counterparts. Pick up a Troika (just like an Oyster card, but much cheaper), download the free Yandex Metro app for smooth subway-surfing, and remember – real Muscovites hold the doors.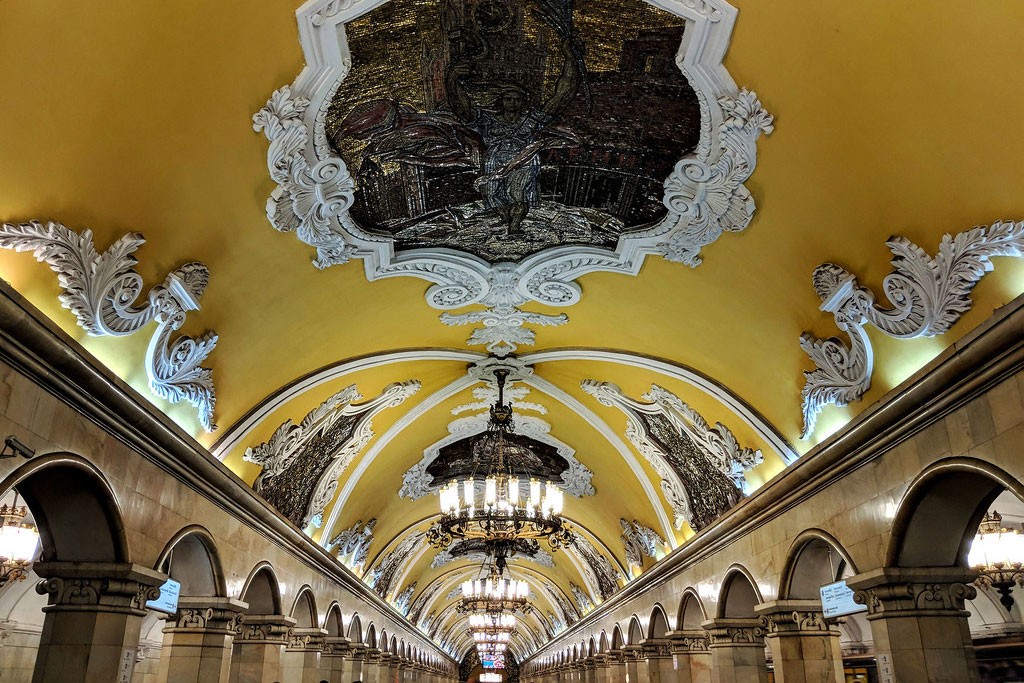 What to Do in Moscow
Unwind and recharge after a day at the galleries by visiting a traditional Russian banya – a steamy, scented sauna where flannel caps and birch besom beatings (painful but invigorating) are de rigueur. The most famous of these, Sanduny, is the oldest and most luxurious, housed in a beautiful Beaux Arts building with three male and two female bathing facilities.
Literature lovers won't want to miss a visit to the Patriarch Ponds, or Patriki, as they are called by locals in-the-know. Famously the setting for Bulgakov's classic Master & Margarita, the area is now home to an ever-growing number of trendy restaurants and coffee shops, including the cosy Uilliams, which serves up delicious European-style fare in a relaxed environment. In fine weather, the vast Gorky Park – a welcome green space in a sea of concrete and wide highways – is great for picnics and people-watching. It's also the site of the Garage Museum of Contemporary Art, a sleek, stylish space curating and hosting exhibitions, events, and arthouse films screenings in the summer.
Just over the bridge lies the New Tretyakov Gallery, the contemporary foil to its classical counterpart and home to a huge collection of 20th century Avantgarde art – you can go from Kandinsky's Compositions to Chagall to Malevich's black square in a matter of rooms – as well as social realism of the 1930s and smaller exhibitions of emerging artists.
If you haven't managed to bag a ticket to the ballet (though unquestionably worth it, prices at the Bolshoi can be eye-watering, especially during the festive period), head over to the Strelka Institute for Media, Architecture and Design. Hosting art workshops, lectures and film screenings during the day, this trendy spot has regular parties, DJ nights and a fantastic rooftop terrace boasting some of the city's best views over the Moscow river.
What to Buy
Not for nothing do Russians have a reputation for spendthriftiness: the capital's shopping opportunities are manifold. If GUM is Moscow's Harrods, then TSUM, moments from the Bolshoi, is a shoo-in for Selfridges. The largest department store in eastern Europe, its many floors carry a staggering number of designer brands, from the classics to the cutting-edge. For even edgier offerings, KM20 on Stoleshnikov Lane is the hipster destination du jour for the latest collaborations and labels to know.
All manner of Slavic souvenirs, from nesting dolls to lacquered boxes, can be found on Old Arbat, a charming pedestrian street lined with stores. If you're willing to go slightly left-field, Izmailovsky Market (a short walk from Patrizanskaya metro station) is a treasure-trove for finding interesting gifts, including old Soviet memorabilia, handmade wooden toys and fur hats galore.
BOOK IT: British Airways offers daily flights to Moscow, from £259 return; britishairways.com. 
Featured photo by Jaunt and Joy on Unsplash
MORE WEEKENDERS:
---