Planning your next weekend break? Kelly Vero tells us to consider Interlaken, for a (seriously beautiful) home away from home…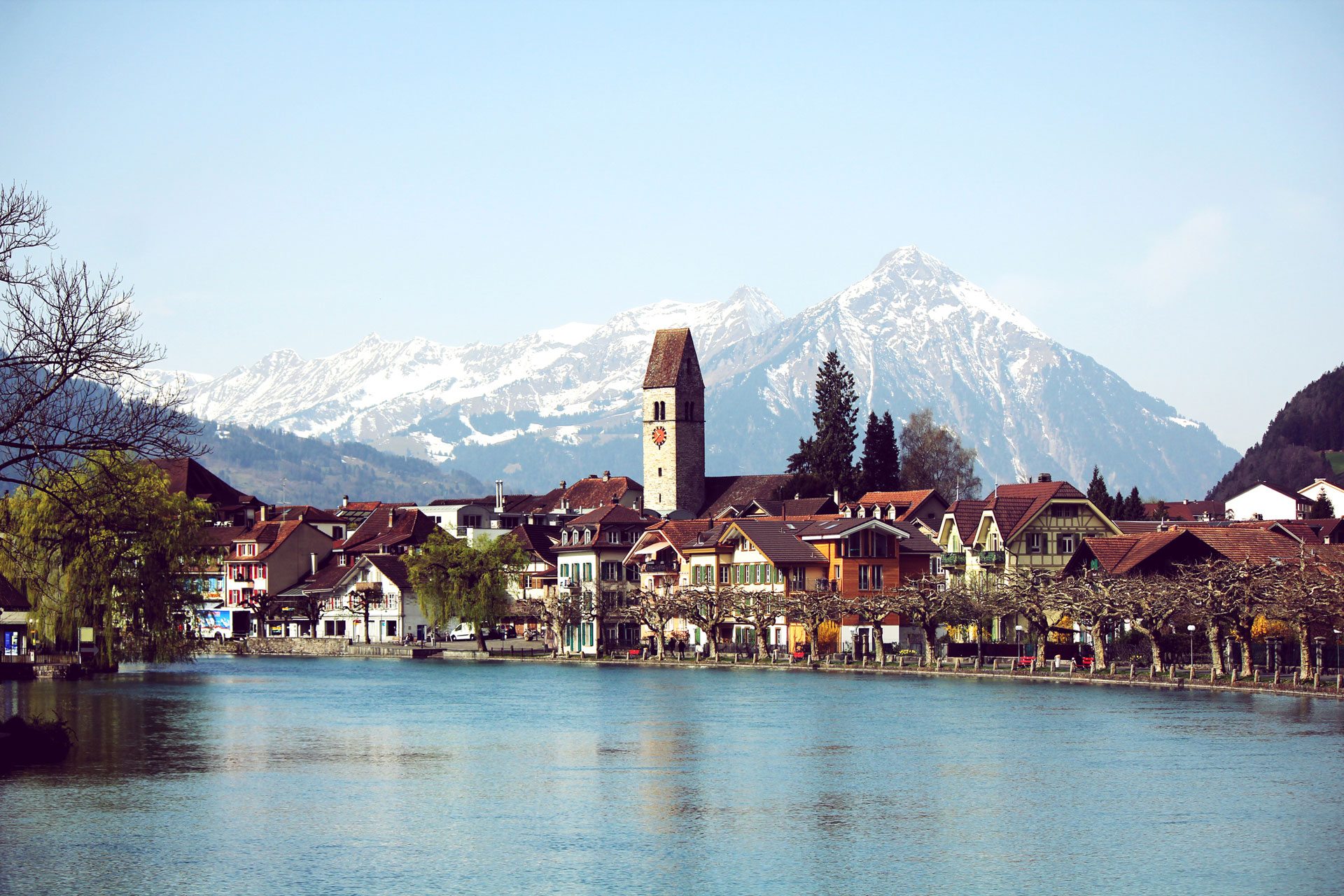 When Thomas Cook organised the first tour of Europe in 1855 he couldn't have picked a better resort for the privileged British traveller. It was settled in 1133 as a monastic order and selected for its mountain air and views ever after. It sits like a fortification protected by the Bernese Alps; this range of famous four-thousand metre peaks with exotic names like Jungfraujoch and Schilthorn. The glistening frosted peaks like Pavlovas mixed with awesome might that you've only seen in a James Bond movie (they filmed On Her Majesty's Secret Service in Piz Gloria). Down in the valley flanking this exclusive resort are two of Switzerland's biggest lakes: Brienz and Thun making this a happy accident where the heavens and earth meet. Add a dose of British extravagance, a glass or two of fizz and you'll feel so at home you won't want to leave…
48 Hours in Interlaken
Stay
Interlaken is affordable luxury with grand ambitions. As Europe has become more accessible, you could be mistaken for thinking that Interlaken has taken somewhat of a backseat. This couldn't be further from the truth. The fact is, Interlaken is the original luxury resort and this is reflected in the majestic old buildings that feel like palaces. Speaking of palaces The Victoria-Jungfrau Grand Hotel & Spa is the absolute pinnacle of old world charm.
From the Chesterfields in the lounge to the sun terraces front and back it was made for Interlaken's assured climate of sun and snow. With a foot over the threshold you are transported back to a time where you can imagine discussing the news of the day with Mark Twain, or maybe slip back to the future with the hotel's opulent (and vast) wellness spa. After all this is what Interlaken is all about.
Nestled beneath the Harder Kulm and beside the River Aare the Grandhotel Beau Rivage sings like a Byron poem to this beautiful resort. He's been here and done that. The foyer oozes nostalgia with its high ceilings and chandeliers whilst the rooms and suites provide a modern foil to the allure of the ballrooms and dining grandeur below. The cuisine here is wondrous with a variety of local specialities along with the obvious classics presented to a really high standard.
The Lötschberg is a super affordable and not without its own cachet: the hotel boasts a modern alpine feel that you may not experience anywhere else. At the crossroads in a residential area you can take comfort in the tobleronic (is that a word?) view of the glacial range behind you. After all, this is Toblerone country, have a look at the wrapper! Not only do these guys offer tours of the Bernese-Oberland but you're assured of complimentary bicycle hire as standard.
For the ultra-casual stay, try the Swiss inn apartments decorated to a high and cool standard, this place rocks if you need a quick crash off-piste. Totally B&B you just come and go as you please. If Jungfraujoch gets too much, grab a coffee and a pretzel downtown; come back and chill.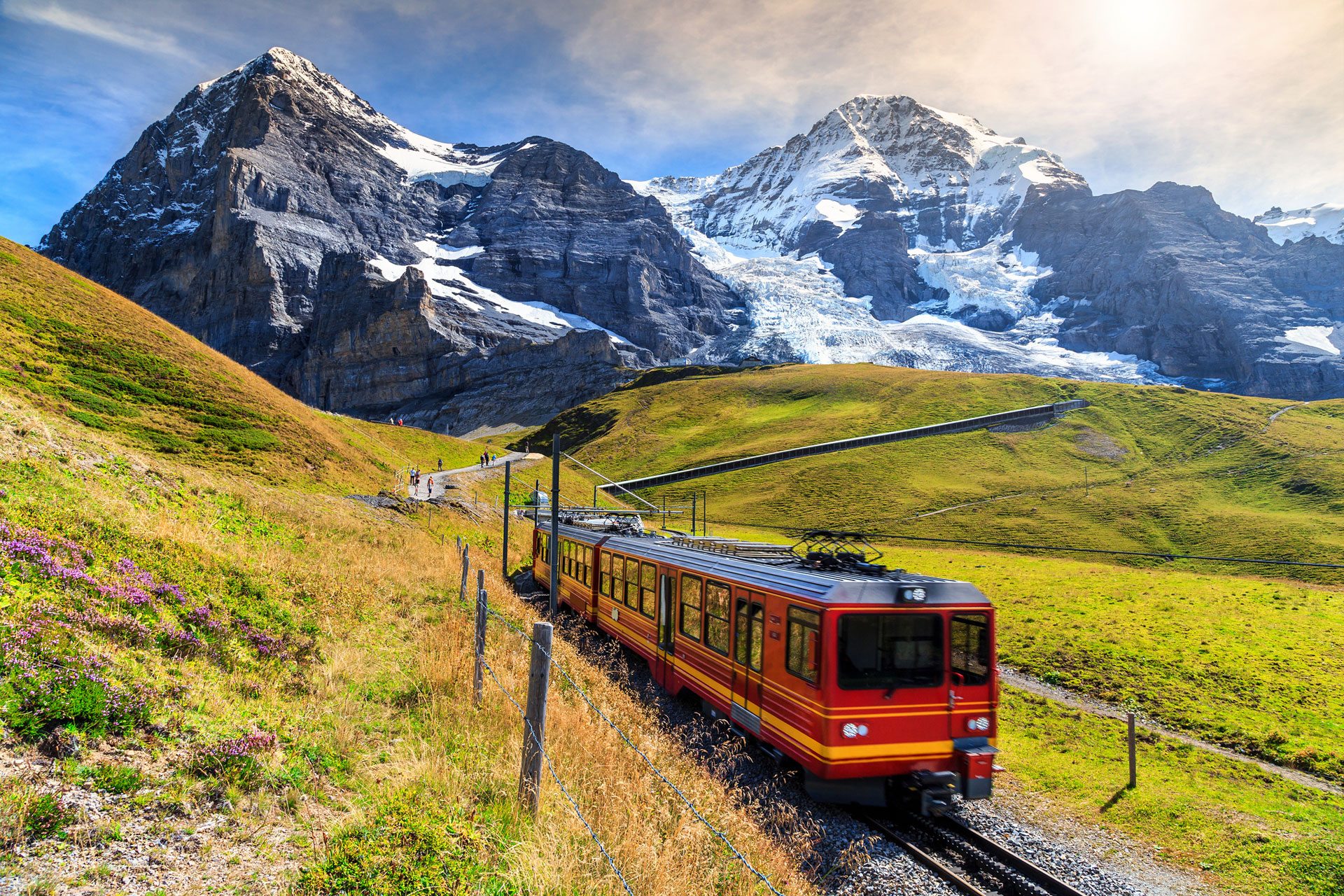 See
If Switzerland was a film, Interlaken would definitely be the set. The supporting actors of mountains and lakes provide a magical vehicle for the story. It's a story which starts with a beautiful view and continues with riverside walks, romantic tales and eccentric visions of ancient beasts and giants that come down from the mountain carrying stones. No, really. The Alps and Switzerland generally is not all Heidi and Gruyere: every twelve years Interlaken hosts a kind-of Commonwealth Games… with a twist.
Unspunnenfest is a test of strength dating back centuries as local communities battled it out to see who was the strongest. Wrestling, yodelling and carrying a giant rock called the Unspunnenstein down a hill. Switzerland's wellness is built on these amazing glacial lakes that you can't help but fall in love with. Instead of just staring at the timeless beauty of these gigantic millponds with their stillness and clarity, why not get in them? Interlaken has at least three lidos on both lakes and although the word glacial spells freezing cold temperatures, you'd be surprised by just how temperate these waters are.
Iseltwald on the Lake Brienz side is a bit of an insider's tip: it's perfect for singles, couples and families and Lake Brienz is the cleanest lake in Switzerland. Dip a toe and see how you feel. Feeling daring? Get your Bond Girl/Bad Girl on with a base jump from Beatenberg. A 75-minute jaunt up to the towering peak above Interlaken awaits, followed by a tandem jump with a professional paraglider for that once-in-a-lifetime leap of total faith!
If wildlife conservation is top of your list then the top of Europe is for you. Harder Kulm is accessed by a funicular narrow-gauge train up to the peak where you have a panorama from over a kilometre up. Marmots and Ibexes greet you, which, if you've never seen them before is beyond cute.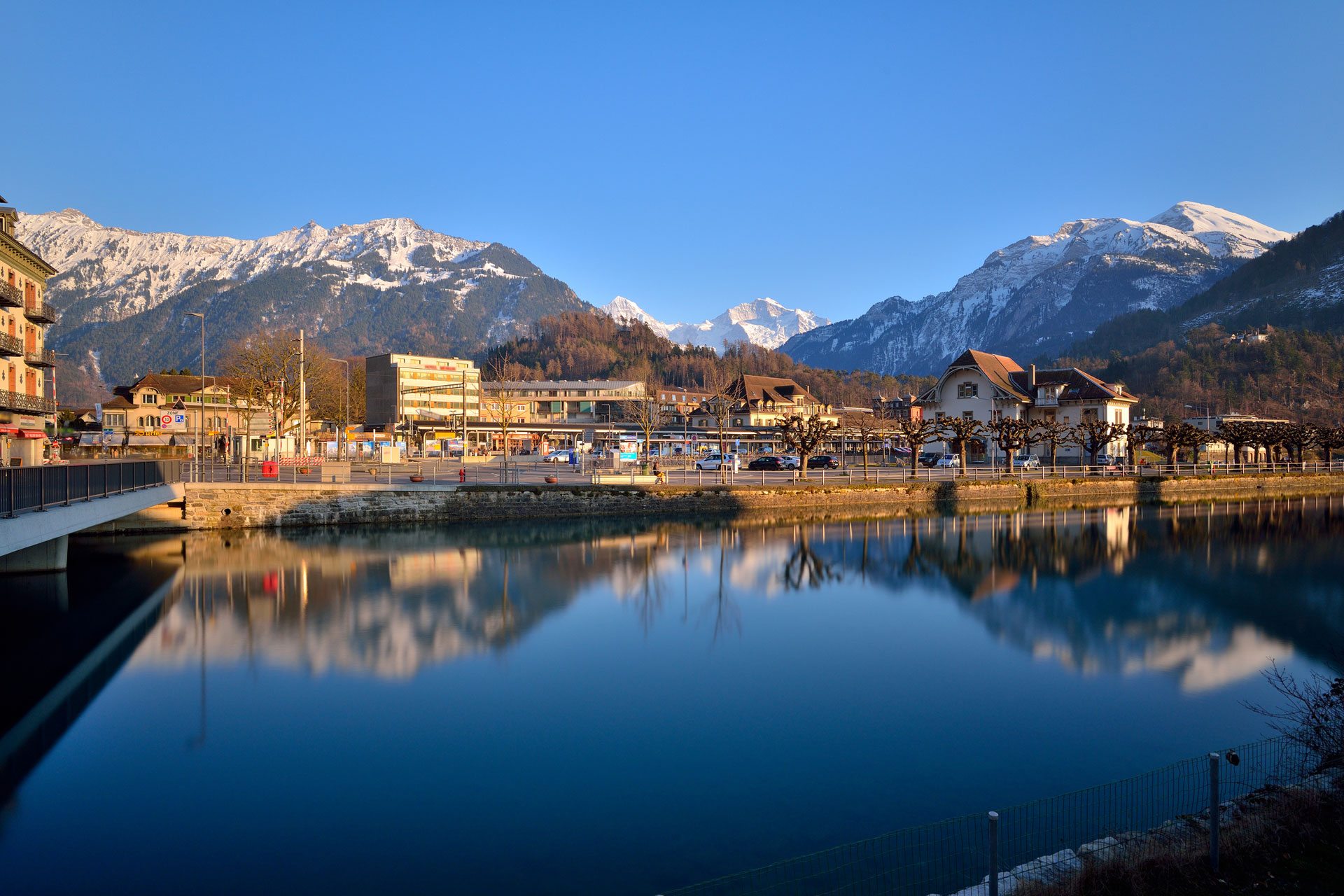 Eat
If you fancy something a little more glitzy then you might want to take the train up into the mountains, Schilthorn to be precise. For it is here that you can walk in the steps of George Lazenby or Taron Egerton some 3,000 metres above sea-level. So whilst you are up here, how about a bite to eat. Running away from bad guys is tiring and Piz Gloria offers not only one of the highest restaurants in the world, but with an amazing cuisine in a revolving restaurant, what's not to love? Try the Schilthorn platter: air dried cold cuts and cheese taste incredible three kilometres up whether you're Kingsman or 007.
The Goldener Anker is part-fine dining, part-crazy; there's a touch of the bohemian about this art gallery taste temple that really lures you into a feeling of pure chill. After a day in the mountains or by the crystal shores of the lakes there's nothing tastier than a proper alpine fondue. The handcrafted depth of the rye bread to the kirsch tinged cheese there really is something extraordinary about this cuisine. Don't forget la religieuse: it means 'the nun' and it's the chewy, tasty bit of cheese at the bottom of the fondue pot. Amazing.
Shockingly, nothing says Swiss like LITTLE THAI. Switzerland is a fantastic braise of cultures and ideals and this restaurant is anything but little. The red and green curries, coconuts and local fish offer a contrast to the unfairly suggested bland flavours of this beautiful country. The restaurant is predominantly a Brewhouse with some serious spices on offer, if that's your thing. The staff are superbly accommodating, tell 'em what you want!
Buy
Nothing says wellness like shopping and when in Switzerland you MUST buy the best. If La Mer is your thing or Valmont rocks your world, look no further than Kirch Hofer. Amazingly you can pick up some bargains here, like that Tory Burch bag you've always wanted. From a fashion perspective you'd be surprised by the amount of prêt-à-porter you can find here. It's not all ski boots and salopettes.
King's Fashion is the quintessential Swiss fashion store and exclusive to the Interlaken/Thun area. Stocking the uniforms of every season, you can blend in like a local! At the higher end of fashion you can take your pick from Armani Junior, Princess Goes Hollywood and the perennial fave Marc Cain. Try before you buy as the climate demands you have the perfect fit every time. Functional, thoughtful and totally Swiss produced goods can be found for the home at Schweizer Heimatwerk.
The amazing Swiss secret is just how particular these guys are about design. Everything they make fits a purpose throughout the home; it's not all cowbells and wood carvings, you know. Pick up an incredible modern clock laser cut in the Scherenschnitt (papercut) style onto a piece of old school vinyl. The price-range is just right for something you'll cherish rather than trash after your trip.
Live like a local… There's so much time (and space) to walk, why not get the most out of Interlaken by seeing the area by bike? Hire a tandem from Flying Bikes or, if you're feeling really lazy, grab an e-Bike.
Whatever you do… Feel that mountain air. By cable car, funicular, hiking or even taking the highest marathon in Europe; Switzerland was made for outdoorsy types whether you're outdoors in a private lodge or in your bikini by the lake, it's great for the skin and there's something magically youthful about the Jungfrau, and you!
---