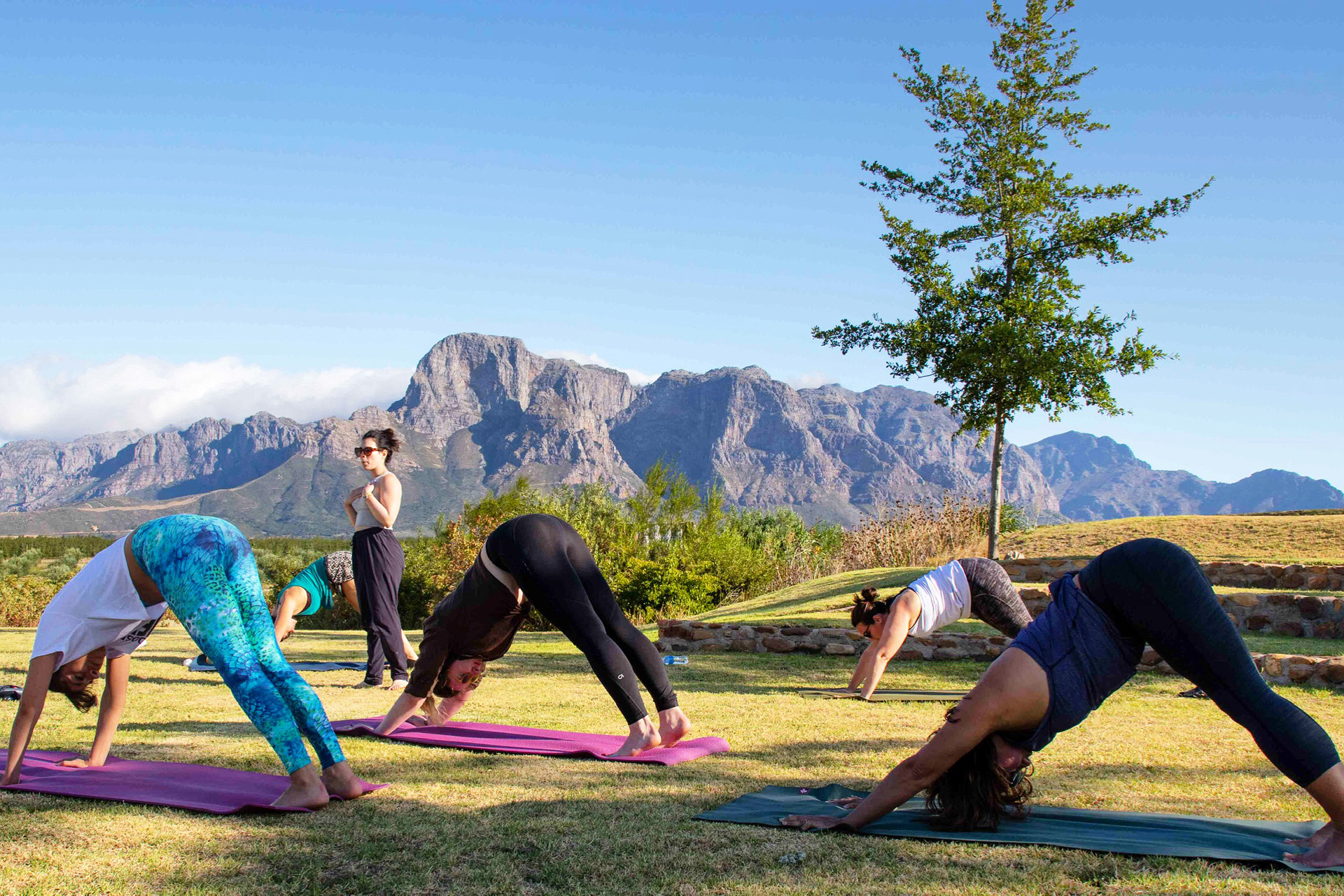 Can Yoga Be A Force For Good?
---
In conversation with Souljourn Yoga founder, Jordan Ashley
Retreats are taking the wellness industry by storm, with sessions up and down the UK and all across the globe. They transport you to a whole new world, both physically (through travel) and mentally (through mindfulness and reconnection with the self). But how can we ensure these retreats are not only beneficial to us as visitors, but helpful for the planet and uplifting of the places we are visiting? Enter: Souljourn Yoga, a nonprofit yoga retreat organisation that transports yogis across the globe, raising awareness and funding girls' education while they're at it. Olivia Emily chatted to Jordan Ashley, Souljourn Yoga's founder, about all things yoga, women's empowerment, and finding balance.
Read the C&TH Responsible Tourism Guide
Q&A with Jordan Ashley, Yoga Teacher and Founder of Souljourn Yoga
Hi Jordan, it's great to be chatting with you! Firstly, could you outline for our readers what kind of work you do through Souljourn Yoga?
Souljourn Yoga is a non-profit organization that uses global yoga retreats to fund and support girls' education around the world. Through our cultural immersive travel experiences, we include a $300–500 donation per participant that goes directly to our girls' education partner on the ground. As a way to change the donor–recipient relationship to incur more heart and mind opening, we also volunteer with these organisations during the retreats. We share in conversations over a meal, participate in a yoga or art workshop, and learn about the girls' daily lives.
Through our yoga teacher training program, we train local women to teach yoga and mindfulness so that it is culturally adaptable for their communities. Many of these young women have academically rigorous schedules and an immense pressure to succeed, as it not only impacts their own future but also the future of their families. And with so much stress and pressure resting on their shoulders, it's important to give them the space and opportunity to just move and breathe for themselves.
Sounds amazing. So how do you choose the destinations you travel to for your retreats?
We choose destinations that offer a magical, wanderlust quality of exploration but that are also safe for travelers. These inspirational places are often bucket list destinations – like hiking Table Mountain on our upcoming Cape Town Art and Yoga Retreat, going gorilla trekking in Rwanda, or even visiting Machu Picchu in Peru.
The common link between all of our locations is that, unfortunately, girls' education isn't guaranteed and is often inaccessible. However, through conscious and ethical travel, we are cultivating impact, as our retreats are designed to give back to ourselves while also giving to others.
What was the turning point for you that made you pursue activism?
I've always been very aware of inequalities and disparities in the world, and how no action is too small to make a difference. I remember being eight years old when we learned about endangered species at school. That really resonated with me, so I decided to stand outside our local chemist with a 'Save the Spider Monkeys' sign, handing out leaflets on ways people could support the cause. Later, during a study abroad program at university in Siem Reap, Cambodia, my focus shifted to girls' education, which has now been my heart cause for well over a decade. 
So how does travel intersect with activism?
I think it starts with ethical travel, which means being aware that you are in the role of a tourist and that you're a visitor to the location. It's taking that level of awareness and realizing that all of your actions have a reaction. Everything you do may have an impact on the people and the place you're visiting.
With that being said, I advise everyone to read and research destinations before engaging in any kind of on-the-ground activism to ensure that your intentions are in the right place (i.e. avoiding colonial and saviourship mentality), including due diligence on any NGOs that you might be interested in working with. What might take a few extra hours of internet scrolling will ultimately lead you to being a more compassionate traveler.
What made you realise that yoga could be a part of this?
After living abroad and working as a journalist, I came back to New York and was teaching and freelancing. I noticed that there had been a big shift (or maybe I was just noticing it for the first time) in how wellness was being used purely for capitalism and personal gain, which didn't sit well with me. Not to mention, so many yoga teachers and studios I knew were doing yoga retreats in emerging market locations. There wasn't any emphasis on giving back or any educational components. Honestly, this just completely set me off. So, I decided to create my own charity using the power of travel to create a positive ripple effect through tangible support to impactful organizations. These local organizations are doing the work to ensure that the next generation of young women have the support they need to achieve their dreams.
What impact are you most proud of for making?
I'm proud of the young women we have trained through our On the Ground Yoga Teacher Training (currently in Rwanda and Morocco), who are now using yoga for themselves as well as teaching one another. It's incredible how, in just a few weeks, someone with little to no experience with yoga can completely shift and gain a skill set that they can use to self-soothe, self-express, and build community by becoming leaders themselves.
So how does yoga itself empower women?
The physical practice of yoga – or asana – encourages us to challenge our physical limitations, or find our edge and breathe through the discomfort, awkwardness, or even fear (such as back bends). It is especially important for young women not only to have the autonomy and control of their own space, bodies, and movement, but also to be free through guided shapes to explore their own personal edges and limitations. To me, that is the definition of empowerment.
Yoga provides the opportunity to explore embodiment, where your internal world (mind) meets your external world (body and breath). I believe the idea of guided movement is extremely empowering as a way for women to (re)connect with their bodies. Yoga serves as a great equalizer of experience, letting bodies be bodies without attaching a narrative or story.
What I love so much about the practice is the ability to have your own experience, your own individual journey on your mat, yet you are surrounded by other people who are also having their own experiences. At the same time, you are all guided together through the same sequence. It's this conscious communal aspect of the yoga class that creates a unifying sense of togetherness, which for me connects with empowerment as it lends itself to feeling both supportive and supported.
How do you find balance in your own life?
To be honest, this is something that I am very much working on all the time. I wish I had a life hack or secret to share, but what I can say is that I make time for things that have absolutely nothing to do with work. While so much of my mission is around yoga, I love exploring other movement practices like Pilates, barre, and spin, and recently I've started boxing, too. Also, my two dogs, Maya and Pickle, provide me the most amount of comfort, companionship, and joy. They keep me present and grounded, whether on a walk in the park or cuddling in bed watching a movie.
What is your favourite yoga pose?
Pigeon pose is my favorite, because it always feels like this intense experience but also like coming home as you are completely grounded and surrendering to this massive hip and glute opening. It feels like this cathartic magic that never gets old!
How can our readers get involved in uplifting women with yoga?
Having first-hand experience of something makes it all the more genuine and authentic. It's easier if you have already tried it out and integrated it into your own life. There are so many different facets of the yoga practice that may pique your interest or curiosity, like meditation, self-care, or pranayama (breathing practices). Take time to explore and familiarize yourself with these facets. It's like the metaphor of the oxygen mask on the airplane – you have to take care of yourself first before you can be of service to others. That doesn't equate with being selfish, but rather carving out time to uplift and take care of your needs so that you can show up and be more compassionate, present, and patient when others need you.
What retreats do you have coming up, and who should consider attending?
Souljourn Yoga has several planned retreats in 2023. We have our Cape Town Art and Yoga retreat coming up from 18–25 February 2023. Later in the year, we have our Nicaragua Yoga Adventure from 1–7 July 2023, and then Morocco in October 2023 (exact dates TBC). 
Our retreats are for anyone who is looking to have a meaningful and memorable travel experience that combines wellness, wanderlust, and regeneration (both for the place we are visiting and for the participants). You don't have to be an experienced yogi at all, as the yoga isn't about getting into shapes on your mat – it's about using the mat as a portal to not only discover the world, but yourself as well. 
DISCOVER: souljournyoga.com 
Featured image: Jordan teaching a class in Cape Town, South Africa in 2020.