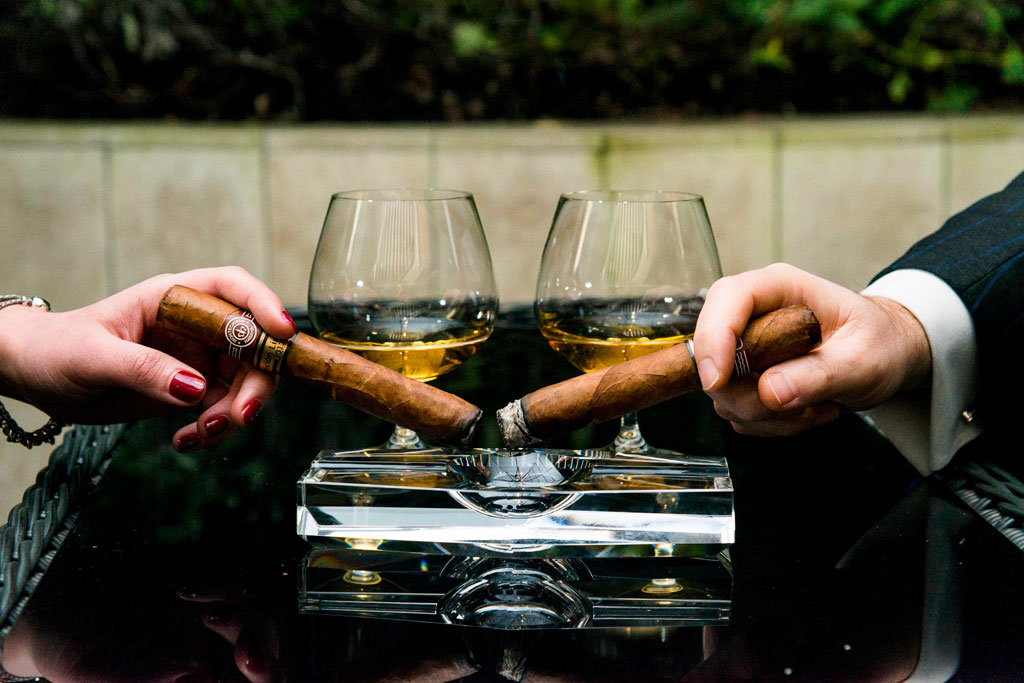 The Ultimate Guide To Cigars In London (& The Best Places To Smoke Them)
Ready to delve into the exclusive world of cigars?
By Nick Hammond | 2 months ago
Keen to know more about smoking cigars in London? Discover the latest cigar trends, from the best to smoke to the trendiest places to smoke them.
Ultimate Guide To Cigars In London
The low end of the cigar market is dominated by machine-made smokes – chopped up bits of tobacco rolled into a tube by a machine, and churned out by the bucketload. The fine, handrolled cigar is made entirely by hand; totalmente a mano, as they say in Spain. This phrase is even burned onto the bottom of every Cuban cigar box to reinforce the distinction.
Buy a gift of these handrolled beauties – a single cigar or a box, Cuban or New World – and you'll make a friend for life. It shows a touch of class to take the trouble to learn something about a subject as infinitely fascinating as the world of wine itself.
Cigars For Beginners
Like wine, there is a confusing array of cigars to choose from. First, find a specialist tobacconist, equipped with a humidor which keeps the cigars in prime condition. Havana's products are excellent but expensive (from around £15 per stick upwards) and New World cigars offer a good value alternative – if the smoker isn't a confirmed Cuban cigar snob, that is. Here are a couple of alternatives:
Hoyo de Monterrey No.2: A classic Cuban cigar, suitable for beginners to experts, the Hoyo de Monterrey No.2 is full of light, ethereal charm, and comes in robusto size (4 7/8 ins x 50 Ring Gauge) – which is big enough to be a 'proper cigar', but not so large that it is daunting or ostentatious.
Dunhill 1907: Produced by Dunhill of St James's Street – itself a subsidiary of the giant British American Tobacco – this is a lovely little New World cigar with depth and character, and a hint of sweetness from the Brazilian filler leaf. Great value, and recommended again in the robusto size.
Montecristo No.2: Long regarded a Cuban classic, the Montecristo No.2 is a Piramide, and is a big hitter at 6 1/8ins x 52 Ring Gauge; expect bold, leathery flavours, and a long satisfying smoke.
Ashton VSG Illusion: The Illusion is a longer, thinner smoke than the above fatties, and perhaps more elegant because of it. Sun grown Ecuadorian tobacco gives this New World cigar a wonderful depth of flavour. You won't want it to end.
The Extras
A cigar lover doesn't just need cigars, mind. A good humidor, ashtray, cutter and lighter are also de rigeur. For the person who has everything, plus a few spare million, Imperiali Geneve unveiled its Emperador cigar chest. It is touted as the most prestigious cigar chest in the world, comprising as it does of 2,675 components, several international patents and state-of-the-art technology, including the world's first self-regulating humidity system. It costs a mind-boggling one million Swiss francs (around £650,000). For a, ahem, more reasonable option, look no further than master craftsman David Linley's versions, which start at £1,195.
For other accessories, online retailer C.Gars Ltd offers a range of options to suit all budgets, while the luxurious Davidoff of London or perhaps the world's oldest tobacconist, JJ Fox of St James's, may be preferable to handpick your selection. Both shops are redolent of old England, and wonderful places to escape on a rainy day.
Where To Smoke Cigars In London
You may be stumped for somewhere to enjoy a cigar, but never fear: despite the smoking ban on indoor spaces, there is a chink of light at the end of the tunnel. Campaigners fought a long and ultimately successful war against cigars being lumped in with cigarettes, and a cigar exemption is made at specialist tobacconists, who are able to offer tastings or 'samplings' inside their stores or lounges. These are London's best places to smoke…
La Casa Del Habano London Harrods
87-135 Brompton Rd, London SW1X 7XL
From Cuban cigar merchant James J Fox is one of Harrods' hidden gems, tucked away on the lower ground floor. Here, find a state-of-the-art humidor featuring a cutting-edge Airkel air filtration system and comfy seating, from which you can enjoy fine cigars and complimentary snacks. jjfox.co.uk
Lanesborough Hotel
Hyde Park Corner, London SW1X 7TA
The ultimate in opulence, The Lanesborough offers The Garden Room as its cigar lounge. Think armchairs, a cosy fireplace and a humidor to drool over, all overseen by the consummate Neil Millington; this is an incredible place to visit (as long as you bring deep pockets). oetkercollection.com
The Wellesley Knightsbridge
11 Knightsbridge, London SW1X 7LY
Fancy visiting Europe's largest walk-in humidor? Head to The Wellesley hotel at the top of Brompton Road, where £1.5m worth of premium cigars is showcased. Plus, the intimate Cigar Lounge & Terrace is renowned for its bespoke artwork, from a map of Cuba etched into the humidor's marble floor to portraits of famous cigar aficionados Winston Churchill and Fidel Castro made from tobacco leaves. marriott.com
Home House
20 Portman Square, London W1H 6LW
Check out one of London's coolest members' clubs for a bespoke blend of cigars: the Lady Portman Petit Corona, Duke Torpedo, Earl Grey Figurado, Ghost Pigtail and the Lady Home Double Corona. Named after some of the illustrious characters that have lived in the House (and one resident ghost), the collection has been designed for cigar connoisseurs, and each has a distinct profile taste. homehouse.co.uk
Bulgari Hotel London
171 Knightsbridge, London SW7 1DW
New kid on the block, Bulgari Hotel London is home to an outpost of internationally renowned Cuban cigar retailer Edward Sahakian. Pay a visit to the Cigar Shop and Sampling Lounge to select from a range of rare Havana cigars sourced from Sahakian's own personal collection. bulgarihotels.com
No. Ten Manchester Street Hotel
Number Ten Hotel, 10 Manchester St, London W1U 4DG
A cool outdoor terrace or a fabulously decorated sampling room: the choice is yours. There's a brilliantly designed humidor here, too, packed full of choice smokes – and the service is second to none. tenmanchesterstreethotel.com
Park Tower Knightsbridge
101 Knightsbridge, London SW1X 7RN
Why not visit the Havana Cigar Exchange at Park Tower Knightsbridge? This specialist in premium Habanos is home to limited-edition and rare vintage cigars. Browse the shop, before enjoying your purchase on the hotel's heated outdoor terrace. havanacigarexchange.com
And finally, cigar smoking is not just the bastion of bewhiskered old barnacles. In recent years, many more women have been seen at cigar specific events and, if you're lucky, you'll find a Ladies Night cigar event at a venue near you before too long.