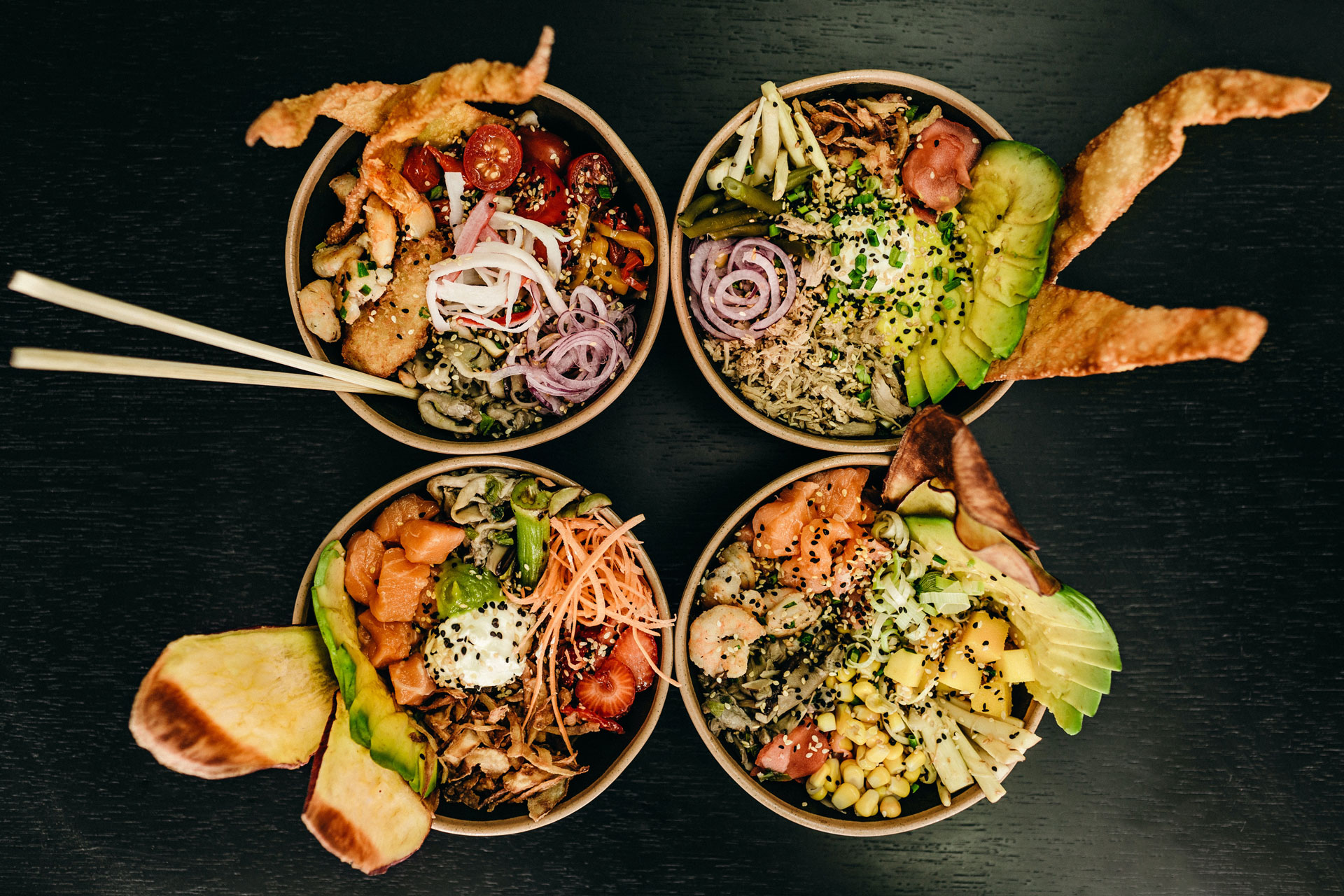 8 Food Trends To Look Out For In 2024
From turkey tail mushrooms to little luxuries
It's never too early to start thinking about food, so here we bring you some of the hot trends for 2024. This year has been all about tinned fish, butter boards and climate-conscious foods, so what will feature on our plates over the next 12 months? Read on to find out the big food trends for 2024, as predicted by the experts.
8 Food Trends For 2024
The Plant-Based Revival
This year, Ultra Processed Foods (UPFs) have come under fire, with new research highlighting how detrimental they can be on our bodies. We all already knew sugar-heavy foods like doughnuts and fizzy drinks were bad, but now experts are stressing that seemingly 'healthy' foods are often packed with harmful ingredients – including some fake meat products. Whole Foods predicts this will lead to a return to the 'OGs of plant-based cuisine': veggie products made from actual vegetables, like mushrooms and walnuts. Plant-based milks, too, are simplifying things – with some labels cutting down to just two ingredients.
Turkey Tail and Tremella Mushrooms
Mushrooms have been big news in the wellness world for a few years now, and interest will continue to surge in 2024. According to Holland & Barrett, sales for medicinal mushrooms are on the rise – searches for a variety called 'lion's mane' increased by 585 percent in 2023. Next year, though, the names to know will be turkey tail and tremella, two types of functional mushrooms which have been used in Chinese medicine for many years, renowned for their cognitive benefits. The hashtag #TurkeyTail has already amassed over 60 million views on TikTok – expect to see this wonder ingredient popping up in powders and supplements, and sprinkled on soups and in smoothies. 
According to restaurant booking platform Resy, mushrooms will continue to dominate food menus too. Its 2024 trends report says: 'expect to see them taking the main character role in savoury desserts like Native's apricot and mushroom ice cream sandwich and dedicated tasting menus like the one at Parilla.'
This is echoed by The Sustainable Restaurant Association's managing director Juliane Caillouette Noble, who points out: 'Food trends will include a bigger focus on beans/pulses and mushrooms. Wahaca is now combining Hodmedod's carlin peas with cauliflower stems left over from their buttermilk cauliflower bites to create a new Oaxacan hummus. The PIG Group, Fallow and the Edible Utopia programme are all cultivating their own mushrooms.'
Little Treats
From cosy cardio to girl dinners, we have TikTok to thank for romanticising the mundane. In a similar vein, this year the platform has given rise to treat culture: buying ourselves those low-cost luxuries which make everyday life that little bit better – anything from a morning coffee to a bath bomb. With the cost-of-living crisis making treats like holidays and luxury goods feel more out of reach, these small indulgences can help deliver pleasure without breaking the bank. Brands are already cottoning onto the trend, launching their own 'little luxuries', and Whole Foods predicts we'll be seeing more of this in 2024. 
Big On Bowls
Whether it's poke, salad or a deconstructed burrito, there's something satisfying about an aesthetically arranged bowl of food. According to Deliveroo's annual report, bowls were the lunch of choice for diners in 2023, a trend which is likely to continue to grow next year. Poke Shack's build-your-own poke bowls were the platform's most popular dish, followed by atis' salads. Sandwiches, watch out.
Biodiversity In Menus
Conserving and increasing biodiversity within our food system is crucial for the future of humankind. Noble thinks more chefs and restaurants will step up their game next year, introducing menus designed to preserve biodiversity. She cites things like incorporating heritage and rare breeds, ancient grains, and invasive species – which, in the UK, includes muntjac deer and signal crayfish. Silo, Douglas McMaster's zero-waste restaurant, is a great example of this: earlier this year the eatery hosted a supper club series focused around invasive species.
Regenerative Food
Regenerative has been word du jour in farming for some time now, but it's not going anywhere. Just look at Groundswell, the regenerative event dubbed the Glastonbury of farming, which has soared in recent years, growing from a single room of people to a fully-blown festival. The movement – which focuses on soil health and looking after the land – will no doubt continue to gain traction in 2024 as the effects of climate change continue to unfold around us. Bucking the trend are pioneering farms like Daylesford in the Cotswolds, rewilding estate Knepp and Devon-based Redwoods Farm. More and more restaurants are opting to source their ingredients from these places, and Resy predicts eateries will start working together to incite positive change.
Noble highlights: 'More menus will feature ingredients from regenerative farms. Examples include Ottolenghi or The Duke of Cambridge who buy flour from Wildfarmed, or Shrub Provisions, retailing to restaurants all across London by working with a network of SE London regenerative farms. This also extends to sourcing meat as a by-product of rewilding or regenerative farming systems – like what Ned Burrell is doing in Knepp Wilding Kitchen.'
Hyper-Local Sourcing
It's not enough for restaurants to say they're using local produce any more: nowadays, it has to be hyper-local. A growing number of eateries are growing their own food, from Crocadon, a self-sufficient restaurant in Cornwall, to The Culpeper in London, which has its own rooftop veg garden. Peter Weeden, Executive Chef of The Boundary and Head of Sustainability for The Culpeper Family Group, agrees, referencing the increase in urban farms like The Little Farm in Scawen Rd, Deptford, which he describes a 'a market garden that gives chefs and front of house staff a window into where produce comes from.' He adds: 'it acts as a place to stop, gain perspective and learn to respect the produce, the people, the planet and the time it takes to grow food.' Others in London include Sitopia and We Are Grow, alongside vertical farms like Harvest London and Grow Up Farms.
B Corps & Social Impact
We're seeing more and more food and drink brands joining the B Corp community: Bollinger recently got certified, as did chocolate brand Love Cocoa. Weeden asks: 'Will 2024 be the year that menus start to be more reflective of the importance/danger of ultra-processed food and its impact on our health, on our communities and on the economic health of our nation and the NHS? Can the EU drive through an environmental farming metric to be shown on food packaging?'