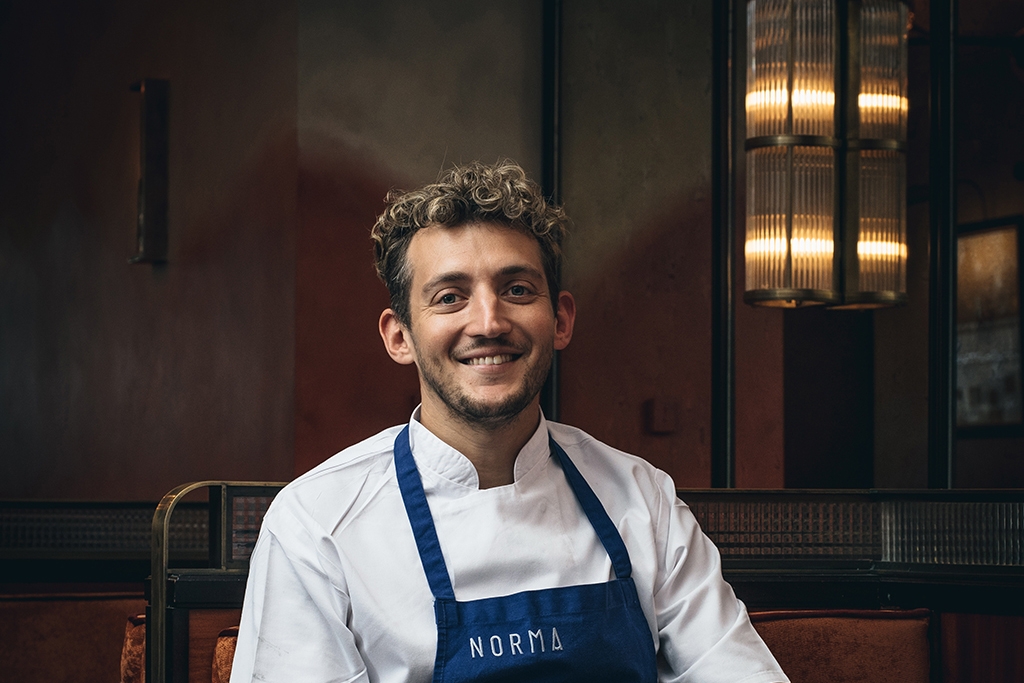 'Do it with love, and you will make people happy' – Interview with Giovann Attard, Norma
---
Olivia Emily chats to Norma's Executive Head Chef
Tucked away on Fitzrovia's Charlotte Street is unassuming Norma, a Sicilian-inspired restaurant with ambient lighting and rustic interiors that stretch across three bustling townhouse floors, spilling out into the street with a little terrace. The food is vibrant and ever-changing, drawing on Sicily's uniquely African and Moorish-influenced flavours and spices. Add Maltese executive head chef Giovann Attard into the mix, and you have an eclectic spin on Italian dishes, curated across ever-changing seasonal menus that stretch from crowd pleasers (think Burrata, Seared Scallops, and Instagram worthy Cornish Crab Linguine) to the more experimental (Pasta Alla Norma is always a treat). Olivia Emily chatted with Giovann Attard to delve into Norma, the head chef's history, and to talk all things cooking with love.
Interview with Giovann Attard, Executive Head Chef of Norma
We love Norma at C&TH, but can you give any readers unfamiliar with your restaurant an elevator pitch?
Norma is a Scillian-inspired restaurant in the heart of Fitzrovia, with particular emphasis on the Moorish influences of the island's cuisine. It's a place where you can take your other half for a romantic date, your family for a Saturday dinner, or just a casual lunch during the week on your day off. The menu changes with the seasons, but the Mediterranean influences remain throughout the year. It's perfect in the summer when our food can be enjoyed on our terrace, and in the winter too, when you can cosy up in one of the booths and enjoy Sicilian-style comfort food.
Where have you worked before arriving at Norma?
Before Norma I was working at Cafe Football in Stratford – a totally different food scene. I helped open a couple of sites with the chain during my time there. I also worked at The Stafford Hotel when I first arrived in London, as well. A mixed bag of experiences that have shaped me as a chef, and made me what I am today. 
Very eclectic! You were part of the opening team at Norma – can you tell us what that was like?
Yes, I was even there for the pre-opening, when it was just an idea. It was one of the best experiences that I have ever had. There was so much to do, but it was really exciting. Creating the menu, testing the dishes, doing photoshoots where we would finally see our creations come to life, and the process of the renovation of the restaurant that we saw developing slowly over the months – it was all incredible. 
As an opening itself, I must be completely honest, it was one of the hardest things I have done – but so rewarding. It was very busy, more so than I expected, so this made it even tougher. However, we created a stunning restaurant that delivers every time, so it was all worth the hard work! 
Glad to hear it. What's the team dynamic like?
We are like a family, really. It's a very small team and we work so closely together. Liz [the general manager] and I have worked together for a long time now, even pre-Norma, and we just bring our teams together and do what we have to do to make Norma a success. Nothing would be possible without my senior team, Francesco and Marius, who are my constant support and lead my team of chefs flawlessly. Natasha from the marketing team who just puts up with me while creating amazing content. And, of course, Stuart Procter who checks in on us to make sure we are working like a well-oiled machine. It's an amazing team, who I love working with.
What's your most memorable moment from Norma so far? 
Last year we hosted a Journey Through Sicily private dinner for the Rocco Forte hotel group. We cooked up a traditional Sicilian menu from the different regions in Sicily, and I went up to our private dining room 'Etna' and explained every dish, its history and how we made it. It was a great feeling to interact with the customers and deliver this experience on another level. The evening ended with some cannoli making too, which brought everyone together and definitely made the evening one to remember.  
Sounds delightful. What about a particularly memorable shift at Norma?
It was in the first few months after opening, and we had a busy dinner service ahead. I think we had around 130 covers booked for the evening, and one of the junior sous chefs at the time pulled me aside to tell me he wasn't feeling well. After a short conversation and a glass of water, he said he would be fine to continue with his shift. We started service and, half way through, in the middle of the mayhem, I saw that he had disappeared. I looked down and saw him lying down on the floor, passed out. It was one hell of a night… We had a chef who had passed out in the kitchen, orders backed up, and I dropped the phone in a bowl of water so I couldn't communicate with the team on the floor! I thought we would never make it through service. Luckily, we had a great team and together we pulled it off. P.S. The junior sous was fine afterwards, thankfully!
Wow – sounds stressful! You grew up on the Maltese island of Gozo – what was that like?
I come from a very small village on the west side of Gozo called Gharb, with a population of 1,300 people. Gharb is quiet, but it's full of culture, great food, and amazing people. I grew up on a farm, so I always had close contact with fresh produce. My brother and I always had chores to do, as having a farm is a lot of hard work (as you can imagine). We grew up with a great work ethic, which comes in handy in the kitchen! 
I love summer and the sea – I remember we used to go to 'Dwejra', the closest beach to my parents' house, and we used to spend all day there with my cousins. It was a much simpler life that I have really fond memories of.
Do you miss living there?
I do miss the moments with my family and I definitely miss the long summers in Gozo. I miss the tranquil life, which I don't experience here in London – but I see London as my home now, and there are many things I love here too.
How do you think your childhood influenced your cooking? Did you always want to be a chef?
My mum always says that I always wanted to be a chef because I was always trying to get in the kitchen and prepare something with her and my grandma. I grew up watching them cook and, without them knowing, I picked up loads by trying to get my hands in every dough bowl, and just watching my grandma twisting and turning her hands while she was making ravioli. Both of their cooking still inspires me today, and I love bringing those inspirations to the menu at Norma.
That's lovely. What is your favourite ingredient to cook with?
It's very hard to choose just one, but I am going to say tomatoes, garlic, and basil. They're so versatile, and all have a unique taste – just thinking about them makes my mouth water! 
What about your favourite dish on the Norma menu right now?
One of the new dishes for the festive season: the Venison haunch, juniper berries, bergamot, white sweet potato and chanterelles. It's comfort food at its best, childhood memories and fantastic flavours all on one plate.
Sounds delicious. What is your favourite dish to cook for yourself at home?
It has to be Torta Salata. It's one of those dishes where you can use whatever you have at the bottom of the fridge. A roll of puff pastry with some eggs, cheese, chorizo, tomatoes, and some herbs, and then bake it. It's simple and easy to do, and I always cook this at home as it takes minimal effort and it tastes amazing. It tastes different every time I make it, because I always use different ingredients – that's the beauty of it. 
And what's your guilty pleasure dish?
Must be pizza – it's my go to dish, especially with Gorgonzola and pepperoni. If I am not making it myself, then take-away it is!
What is your favourite restaurant in London? 
At the moment it's Manteca in Shoreditch. I had a great lunch there, and everything about the experience was just right. The food, the open kitchen and the in-house salumeria captured me. I also love Macellaio RC for a good steak and Behind for something more exciting. 
All great choices! What about your favourite restaurant in the world? 
I would love to visit Villa Crespi restaurant by chef Cannavacciuolo. I have heard so much about it, and they just gained their third Michelin star.
Which chef do you draw the most inspiration from?
Josh Niland intrigues me… I am fascinated by fish butchery and the dishes he creates. But I get inspiration from all different places. The best ideas I have, I usually dream about them first, or they come to me late at night in bed.
If you could cook alongside one chef, living or dead, who would it be?
I think it would be Anthony Bourdain. He is a great cook, but comes across witty, striking and humble. It would be a great experience cooking alongside him – and a good laugh, I imagine!
What's your top piece of cooking advice, for beginners or seasoned professionals?
Do it with love, and you will make people happy – that's what I go by, and always have since I started cooking. If you are cooking for yourself, or in a restaurant, or at home for your friends, give it all you can, and that's all the satisfaction you need.
Norma is open Monday–Saturday, midday–10:30pm. 
8 Charlotte Street, London W1T 2LS
Featured image: Giovann Attard, courtesy of @Lateef.photography.