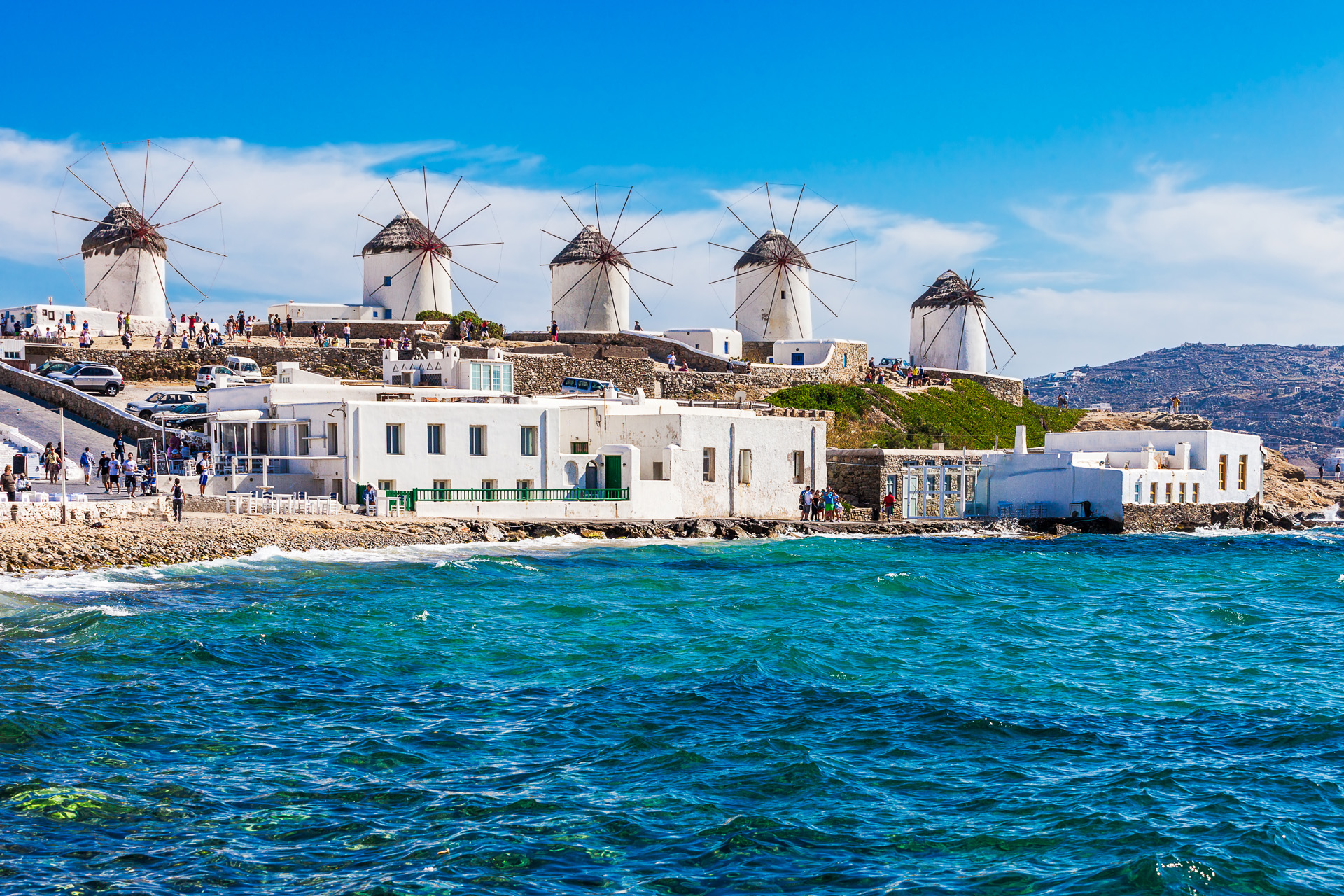 What's New In Mykonos: The Travel Guide
---
Why Greece's iconic 'island of the winds' is still hotter than ever
The bare, breezy Greek island of Mykonos, woven with white-washed buildings and bright bougainvillea, is one of Europe's most iconic destinations. A catalyst for creatives and politicians in the 1950s, who were drawn to the ancient ruins on the neighbouring island of Delos, today it is home to world-class brands. This includes wellbeing retreats at Santa Marina and Peruvian food from COYA, writes Georgie Bentley-Buckle. 
Read the C&TH Responsible Tourism Guide
What's New In Mykonos: The Travel Guide
BEST TIME TO VISIT
June through to September is Mykonos' high season. Throughout this warmer period, the island is highly charged with partygoers, quad bikes and passing cruise ships, meaning it can be tricky to move around. If you're looking to see the island through the eyes of the locals, it's worth visiting around May or October. This is when it remains warm but moves at a slower pace. 
STAY
Santa Marina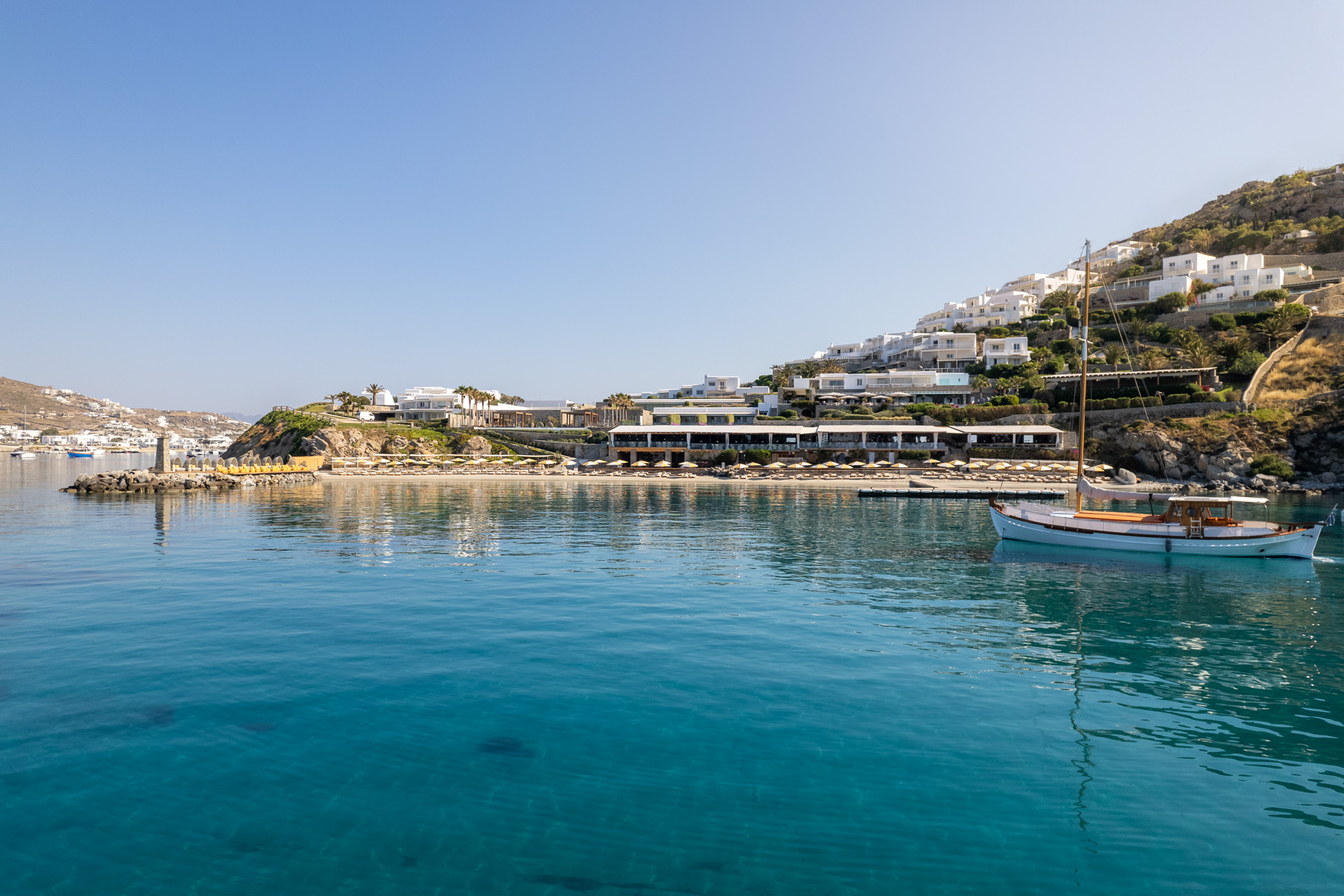 For more than a decade, Santa Marina, a Luxury Collection Resort from Marriott, has been considered Mykonos' finest hotel. Situated on a private peninsula in Ornos Bay, today it is fast becoming a wellbeing hotspot on the island. This is in addition to 114 rooms, suites and villas, a widespread private white beach, Buddha-Bar, and restaurant from Jason Atherton.
In the heart of the hotel, the 423 square metre Ginkgo Spa, inspired by the Aegean Sea, has one of the best gyms, five treatment rooms (including a couples' suite), a sauna, steam bath, hammam, and a salon for all the beauty essentials. We visited for a refreshing facial and morning yoga overlooking the ocean. Looking ahead, the resort will be launching new wellbeing retreats for guests to enjoy regular yoga, wellness workshops and cultural activities. This includes a Women's Wellness Retreat and a Fitness & Nutrition Retreat.
BOOK: From £424 per night, based on two adults sharing on a B&B basis. santa-marina.gr
Cali Mykonos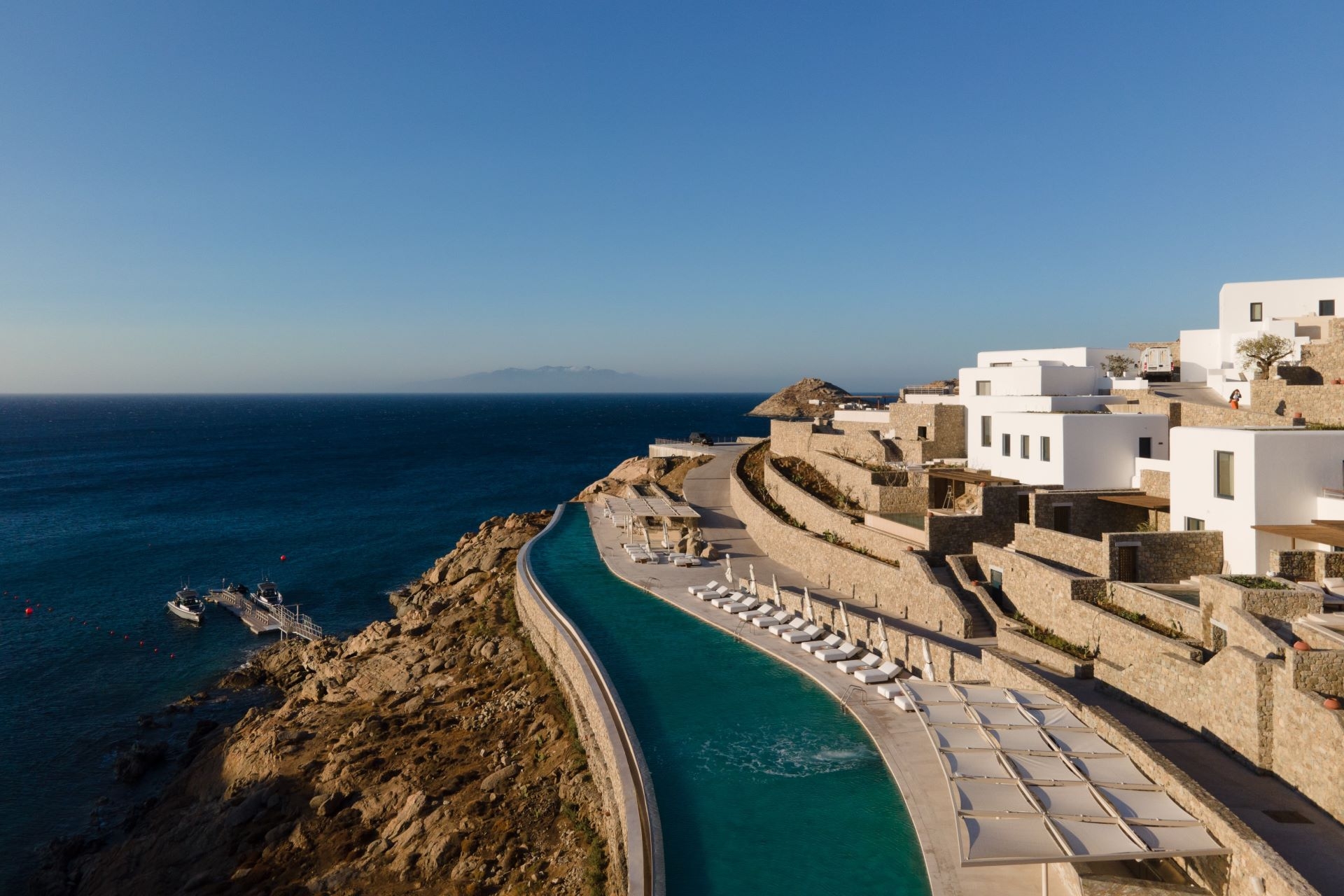 The opening of Cali Mykonos this July further marked Mykonos' global reputation. Sleek, sophisticated and sustainably minded, the spacious 40 suite and villa boutique luxury resort has been consciously built around the natural shape of the landscape. With its name inspired by Calliope (the eloquent Greek Goddess of poetry), this stylish hotel has been consciously constructed with stone from the initial excavation, native Greek wood and local marble. 
Space and privacy are paramount with many of the suites and villas featuring private pools. This is in addition to the vast, 145-metre seawater infinity pool that stretches over the ocean, offering a peek into the cosy cove where the intimate private beach lies. 
We spent our time stretched out across the hushed hotel, whether it was in our 100 square metre pool suite – which has local vegetation, flowers and herbs planted on its flat roof, (naturally insulating and improving the air quality) – or with our feet in the sand by the inviting ocean. 
Cycladic simplicity extends to the Mediterranean restaurant from influential Greek chef Lefteris Lazarou. Serving traditional Greek cuisine and locally sourced seafood, each dish highlights his preference for sustainable cooking. Meanwhile, also tapping into its locality is Cali Mykonos' intimate gallery with works from established and emerging local artists. Guests can also discover a Pilates studio, or enjoy an in-villa massage as we did. 
BOOK: From £1,140 per night for a Deluxe Suite. calimykonos.com
Once In Mykonos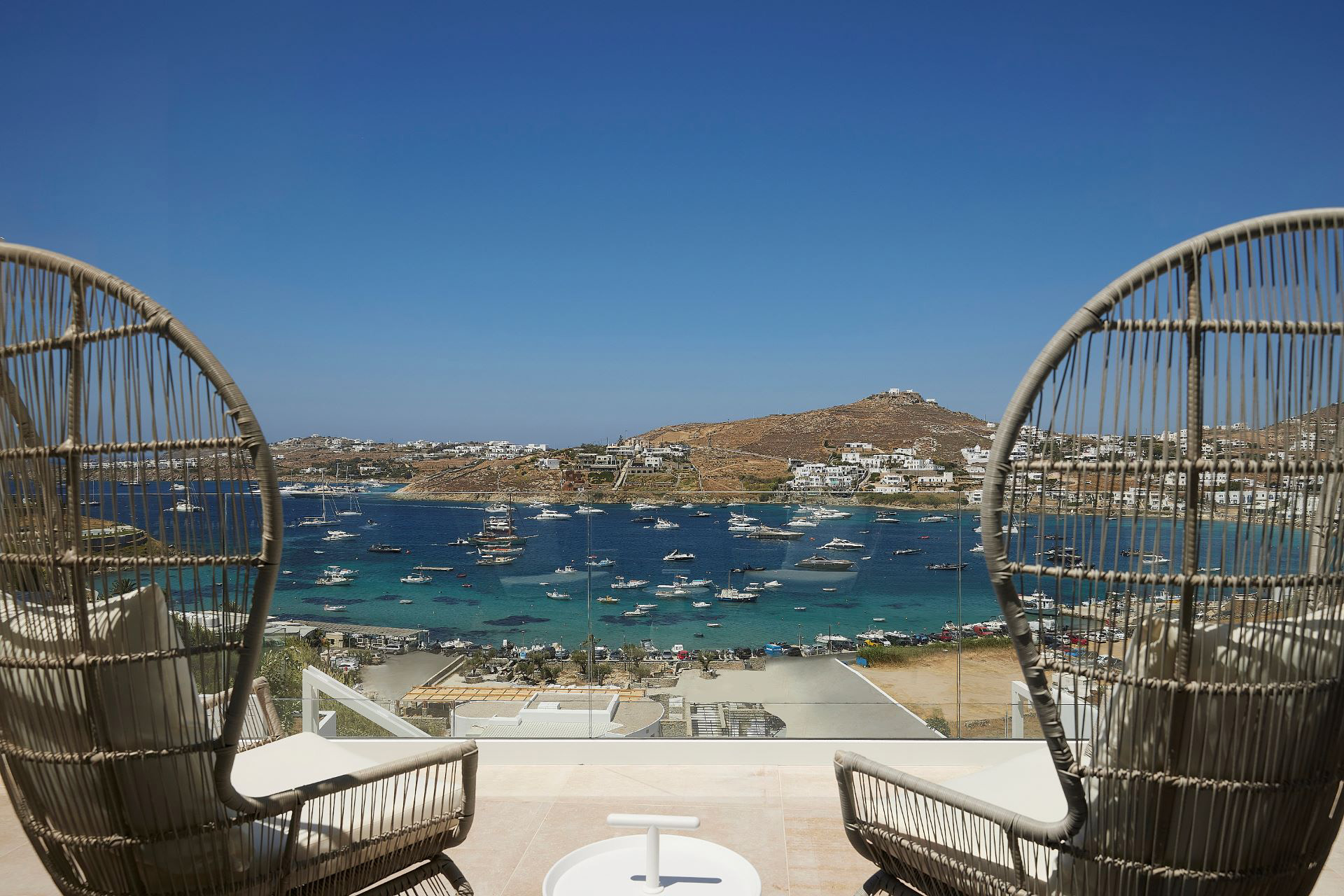 Inspired by the eclectic heritage of the island is Once In Mykonos, another new hotel for 2022 that opened in May. Taken from the expression 'once in Mykonos, always in Mykonos' – a tale based on how the Greek island was (and still is) a magnet for the elite. The former private villa has been transformed into a 59 room and suite five-star hotel. 
The minimalist, pearly white property frames generous views of Ornos Bay with a contemporary design. We lounged by the lively pool – complete with a DJ – during the day, and spent our evenings at the Infinity poolside restaurant. Built into the arid rock face, local goats peer into the modern property, which has a charming private church, available for weddings and special occasions. 
We booked a couple's massage in the comfort of our Panoramic Sea View room. You also have the option of the spa, which has an indoor and outdoor pool, hammam, jacuzzi and sauna, and a small gym. Room categories include a 32 square metre Premium Sea View room with a private pool, the 45 square metre Signature Sea View Room with a pool, and the 105 square metre Two Bedroom Villa which comes with a private pool and jacuzzi. 
BOOK: From £280 per night for a Panoramic Seaview Room. onceinmykonos.com
Mykonos Theoxenia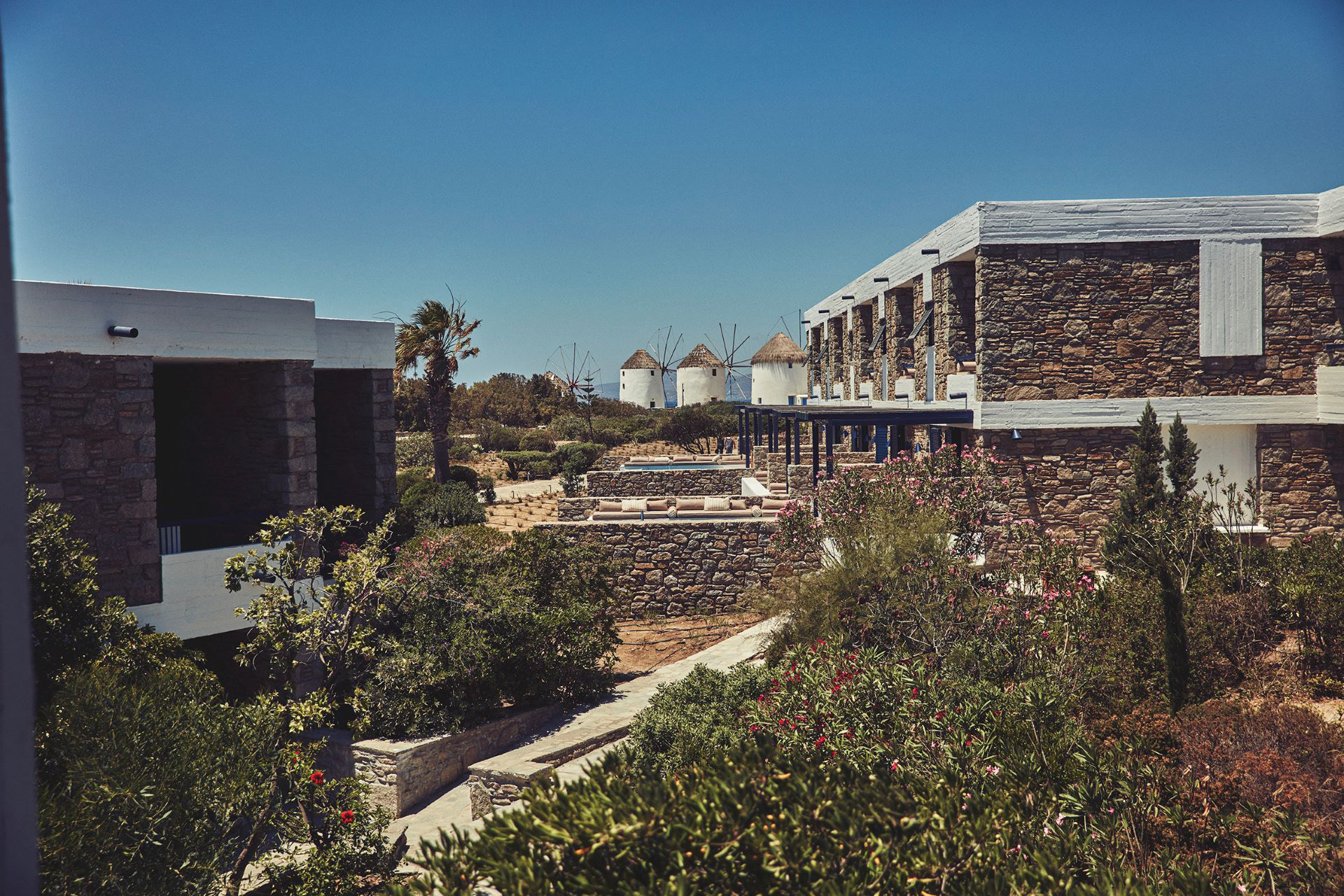 The island's heritage goes hand in hand with a visit to the historic Mykonos Theoxenia. Originally conceived in the swinging 1960s, this landmark hotel has been carefully re-imagined, and opened in July as Mykonos Theoxenia, a 37 room, four suite hotel built with the same stone as the town's sea walls. 
Location is everything at Mykonos Theoxenia. With an enviable address in the heart of town (and next to the iconic windmills of Mykonos Town), it also faces the uninhabited island of Delos – an archaeological site and the mythological birthplace of Apollo. This historic setting echoes its rich past, which attracted an international audience.
Mykonos Theoxenia is set in a place that realised a new era of eclectic travel, and today the restyled hotel continues its five-star legacy. From a visionary architect, its unparalleled setting includes a 1,000 square metre garden with over 90 plant species. With a refreshed design of sculptural furnishings with natural tones and terracotta, choose from the cosy 22 square metre rooms that look out over the garden or ocean, the 45 metre Deluxe Suites, or 68 square metre Theoxenia Grand Suite with its two bedrooms and a private pool. 
BOOK: From £345 per night in a Cosy Room. mykonostheoxenia.com
EAT
COYA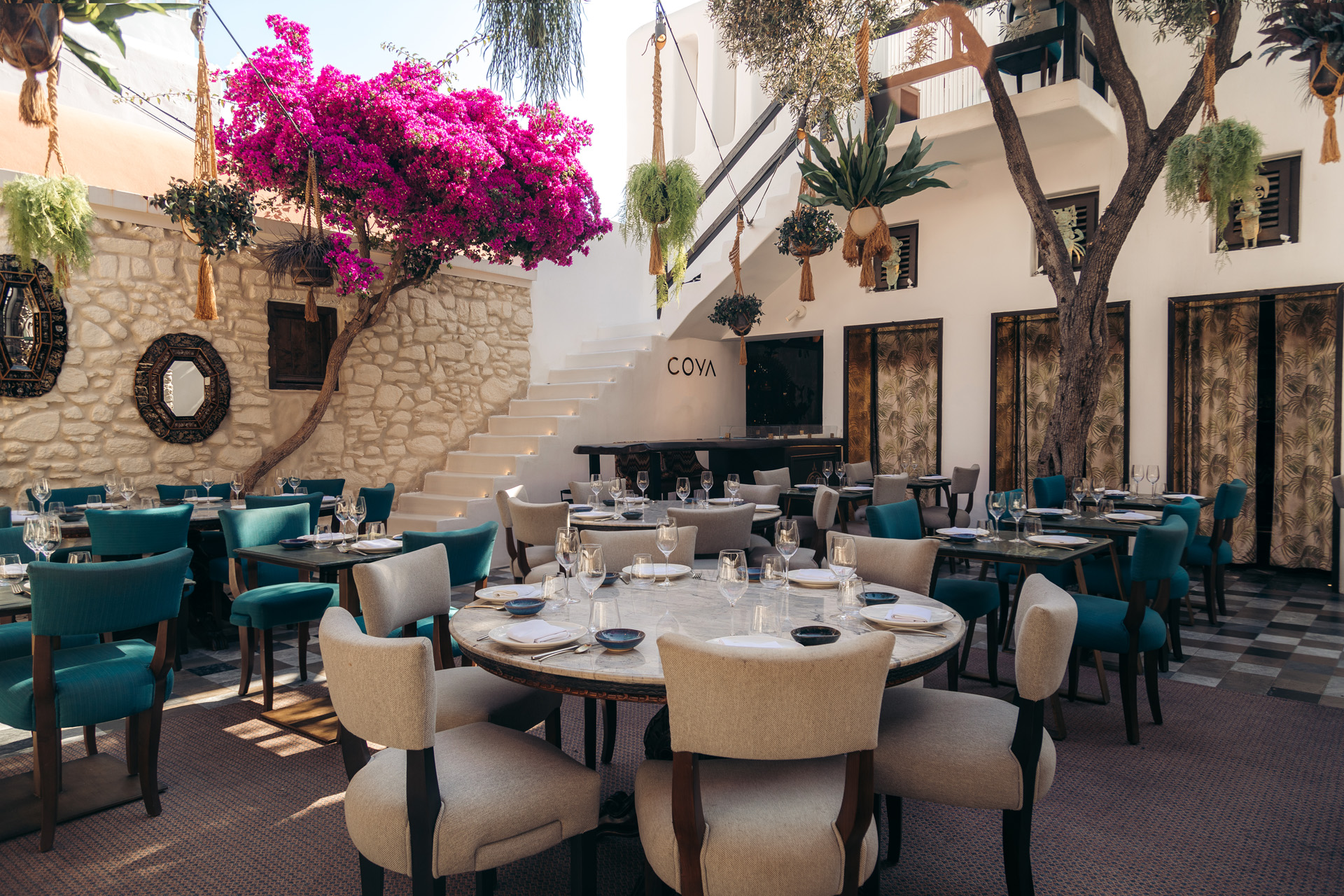 Peruvian cuisine meets modern Mykonos at COYA. Inspired by the vibrant Incan heritage and Latin American culture, the open-air courtyard is set to the soundtrack of its very own record label. 
Leaders in multi-sensory entertainment, COYA Mykonos offers a menu that is delicious and healthy, with naturally light, fresh and colourful dishes made with ingredients sourced from local suppliers. The perfectly ripe avocados – which are smashed and seasoned at the table – are a signature favourite. Other highlights include a truffle stone bass ceviche, soft shell crab tacos, and catch of the day with a Peruvian tapenade. Pisco Sours are their go-to drink, and here the Picso Bar draws inspiration from the oldest in Lima. 
This year, COYA celebrates ten years of fun, having launched their flagship restaurant in London's Mayfair in 2012. Following a decade of global growth, other locations now include Monte Carlo, Paris, Dubai and Abu Dhabi. From the art on the walls to the tribal beats and immersive menu, it is the pinnacle of hospitality on the island. coyarestaurant.com
Nōema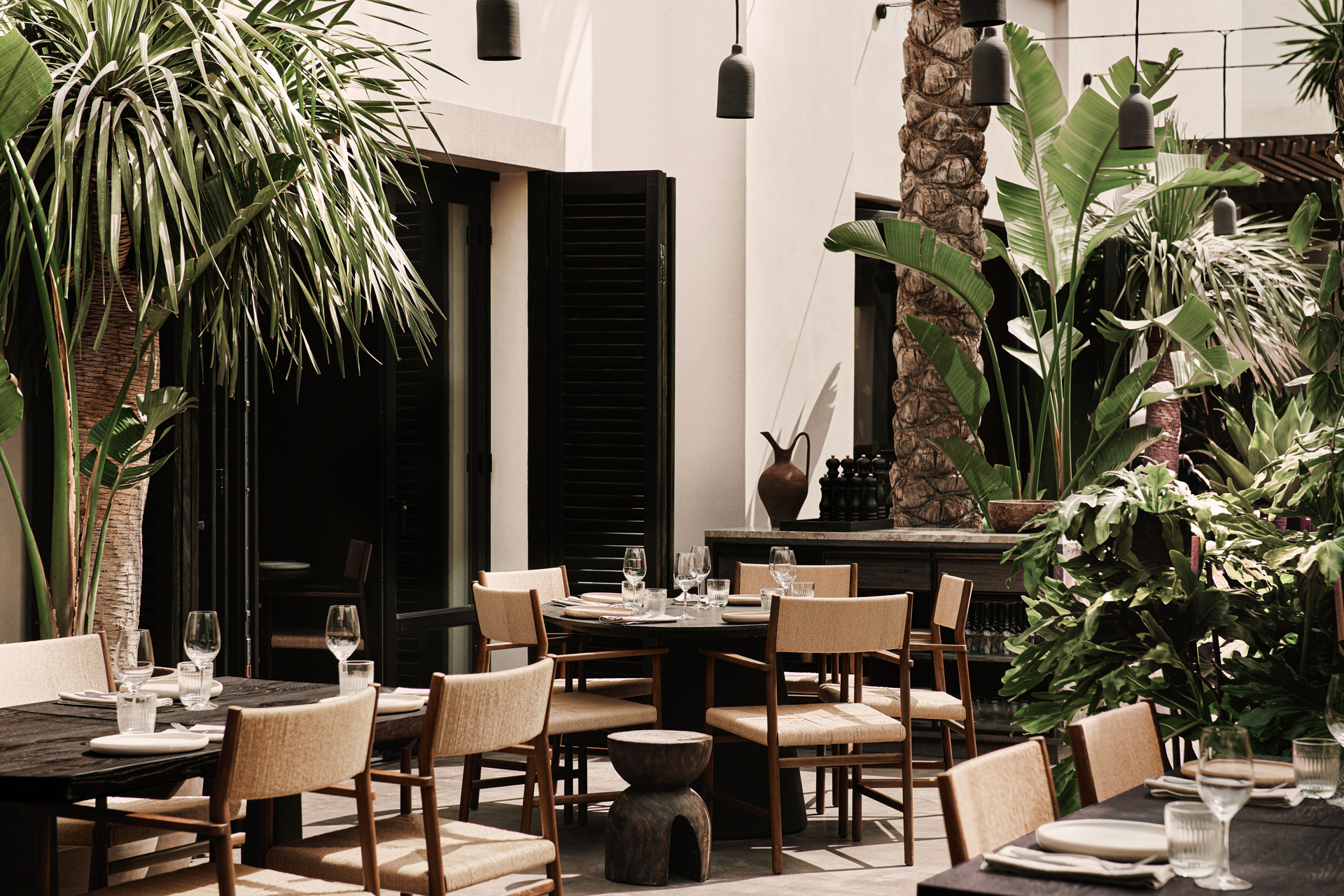 Mykonos' bohemian character thrives at Nōema, a former outdoor cinema that today is one of the island's most popular restaurants. Discreetly hidden along the town's old lanes, it is not a restaurant you would easily stumble upon, designed more so for those 'in the know'. 
From its open kitchen, the food here follows a concept of simplicity, seasonality, and community, with a menu that shines a spotlight on the land and sea. Tying into their communal ethos, each dish is designed to be shared – from delicate raw meze paired with biodynamic wine, to fish or shoulder of lamb cooked over an open fire and served at the table, taverna-style. 
Expect the unexpected at Nōema, with many ingredients cured, fermented, sun-dried and flame-grilled using time-honoured traditions and presented in alternative ways. This attitude carries through to the outdoor bar, where organic elixirs and cocktails are infused with foraged herbs and Greek spirits such as tsipouro, kitro, and prickly pear liqueur. noemamykonos.com
Fteliá Pacha Mykonos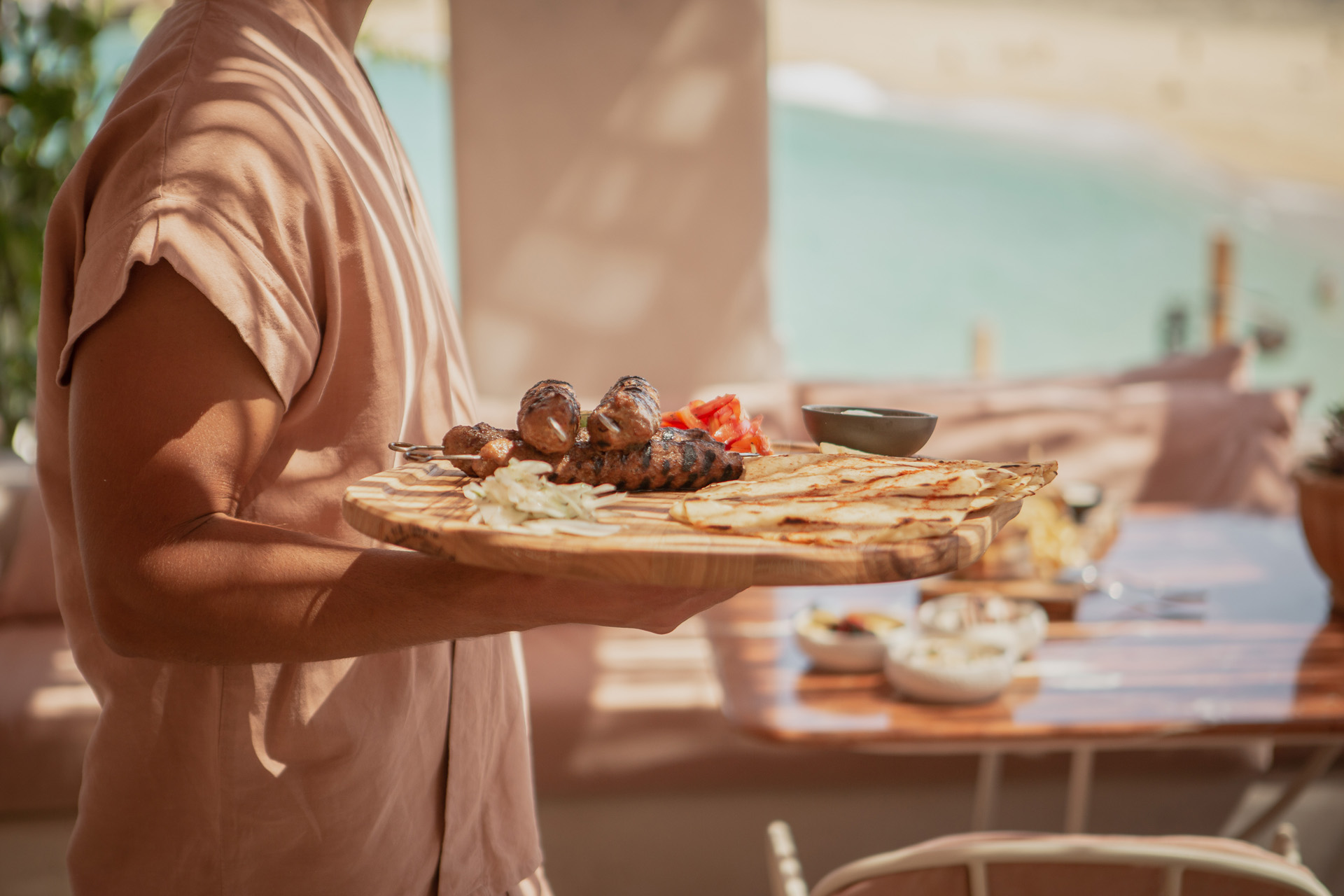 A new all-day dining concept this summer is Fteliá from the global Pacha Group. As the name suggests, this restaurant-cum-beach club can be found on Mykonos' Fteliá beach on the island's wild northern shore. A new open-air beach experience, a hedonistic line up of the group's most popular DJs blend world-class music with impressive Mediterranean style dishes across three levels.
Fteliá's funky pink design is inspired by the famous resorts of the 60s and 70s in southern France and coastal Italy. This fuses with the Greek island's cosmopolitan energy and natural beachfront surroundings. A menu with Spanish flair and the best local produce at the new barefoot restaurant include fresh sea urchin with lemon and olive oil, red shrimp carpaccio, lobster, and the local speciality of taramosalata to match its setting. 
Cocktails and wines complement the menu. Choose light whites and fragrant rosés to full-bodied reds. Whilst the signature 'Dancing Days' cocktail is made with vodka, watermelon, cucumber and herbal liqueur. fteliapacha.com
DO
Sailing Adventure with Sam Boat
Island explorations are often best done by boat. For Mykonos, this is one of the most popular (and luxurious) ways to soak up the sea and sunshine. Lined with coves, dramatic rock faces and historical interest points (notably Delos), cue Sam Boat to secure your next sailing adventure. 
We used them to book a gorgeous 52 foot sailing boat for the day, which gracefully guided us to the nearby Rhenia islands whilst being crewed by a friendly, local team. Whipping out water toys and welcomed refreshments, we were treated to a beautiful lunch of Greek salad and seafood whilst mooring in a quiet bay. 
With a 'blue health' ethos (the idea that being on the water is good for our physical and mental wellbeing), they allow the chance for everyone who visits the island a day at sea. With a collection of boats helmed by experienced skippers, our private charter trip offered a new sense of freedom, enjoying Mykonos from a different perspective. samboat.com 
Explore on Horseback
Meander an unpolished – but equally beautiful – side of the island on horseback. Past local farming villages and rocky hills inhabited by goats, sheep and donkeys, the secluded stables of Horseland Mykonos offer riding adventures for an insight into island life, away from the bars and clubs.
Whilst staying at Cali Mykonos, the concierge team booked the ride on our behalf. A quick, ten-minute drive from the hotel to the island's longest standing riding stables, they rescue horses from neglect and misfortune, giving them a new lease of life with training and healing techniques. A sustainable way to explore the island whilst also giving back, there are several rides to choose from. We rode to the remote Fokos beach for lunch at a local taverna whilst the horses cooled their hooves in the sea and rolled playfully in the sand.
BOOK: Booked by the concierge team at Cali Mykonos. calimykonos.com
Vineyard Tour and Tasting 
Another alternative way to see (and taste) the island is a visit to Vioma Organic Wine Farm. A 19th century monastery vineyard, we visited for a tour with wine tasting and a farm-to-table meal of local cured meats and cheeses. Growing traditional Aegean-sea varieties of grapes, Mykonos' micro-climate (dry with strong north winds and naturally rich soil) creates the perfect conditions for the regional grapes to thrive.
Booked by the concierge team whilst staying at Mykonos Theoxenia, learn about the original roots of the island, cherished by the monks. It is also home to beehives that produce Myconian honey, and a team of dogs, cats, goats, chickens, turkeys and their beloved donkey. The kitchen garden grows organic seasonal vegetables and Mediterranean herbs, whilst fresh bread is baked in the traditional wood oven.
BOOK: Booked by the concierge team at Mykonos Theoxenia. mykonostheoxenia.com
BUY
Mykonos Town is a white-washed warren of smart boutiques, filled with designer clothes, plush interior pieces, leather shoes and handmade jewellery. A traditional symbol to ward off evil spirits is the blue and white evil eye which features on almost everything. 
Edible purchases include high-quality, locally produced olive oils or baklava pastries, saturated with honey and topped with nuts.
Featured Image: Windmills in Mykonos, Greece (via Getty).
READ MORE