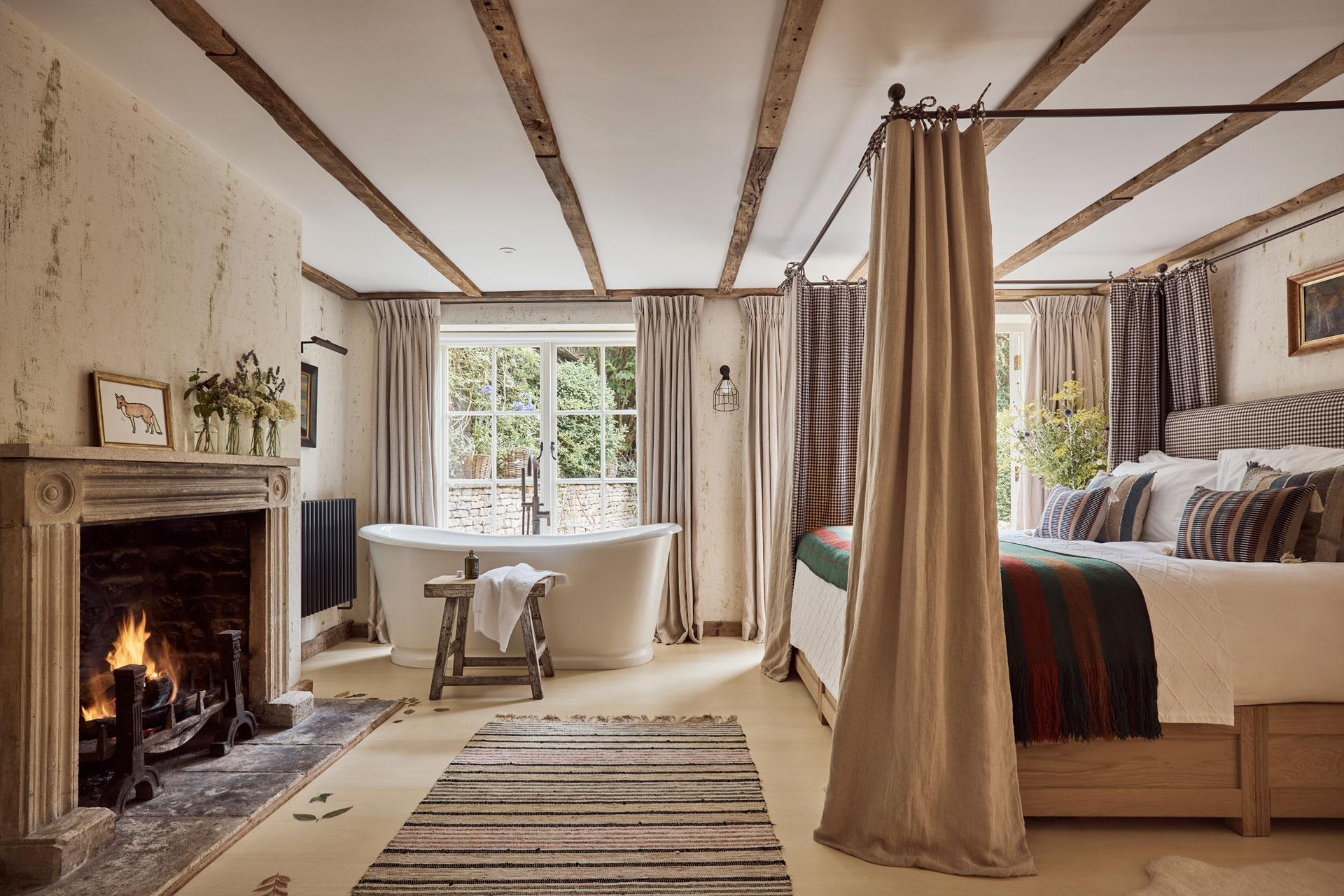 The Fox at Oddington Review: It's the Hot New Hotel of The Cotswolds
---
Foxtrot this way to the Cotswolds' chicest stay.
The newly opened Fox at Oddington is Carole Bamford's latest string to her bow (she also happens to have founded a little thing called Daylesford Organic, do you know it?). So it makes it no surprise to report that this chi chi Cotswolds hotel has already become the new 'it' stay for locals and Londoners alike. Charlotte Rickards checks in. 
The Fox at Oddington Hotel Review
What if I told you that getting a heat stroke is bearable if a hotel is that nice? A stay at The Fox at Oddington, the Cotswolds' delicious new opening, makes surviving the British heatwave, worth forgetting to pack sunscreen. 
But let's be clear: The Fox at Oddington isn't your average 'work-a-day' village B&B boozer. The brains behind this pub-with-six-suites situation is Carole Bamford, founder of the acclaimed Daylesford Organic. (That's the enormously successful eco-chic farm shop that's got a cult following including the likes of Gwyneth Paltrow and Kate Moss, so you start to see what I mean). 
The C&TH Guide to The Cotswolds
The Fox at Oddington has been through a painstaking twelve month renovation, where the general manager, Nathan Walker-Unwin (bringing with him experience at Coworth Park — Prince Harry's hotel of choice before his wedding), helped usher this 16th Century historical gem into a space that's fresh, light, and contemporary, but still delicately balancing it with respect to its impressive heritage. 
The interiors of the bar-meets-restaurant is a bit of a medley of influences. It's got a bit of Soho House in it (the zesty lime and white striped crenelated parasols in the garden are much like the franchise's latest outpost in Brighton). And there's also plenty of sophisticated perfectionistic touches (expertly coiffed and clipped hedge 'sculptures' of sorts, featuring a fox sculpture, of course, in the somewhat smaller of pub gardens). 
But don't take that to mean it's not accessible. You'll see it takes itself down a few pegs with a few 'foxy' witticisms thrown about the place (see 'for fox's sake' inscribed on the bar) which has a similar energy to a stay at The Pig, for example.  
EAT
That kind of 'it's a quintessential Cotswolds pub, but an elevated artsy one' offering is reflected in the food. You can expect all the typical pub grub plates: well portioned stakes, burgers, fish, and wood-fired pizzas. Prawns, for example, are served in tankards on a wooden board. 
Recipe: Daylesford Cod with Lemon, Parsley, and Tomato Butter
But, obviously, this isn't your typical steady Eddy boozer, it's a Bamford one. So whenever there's vegetables, it's going to be a cornucopia of unusually colourful green beans. Or a sprinkle of an elderflower sprig in your Bellini cocktail.
The knockout produce is from their sister farm, Daylesford Organic Farm, and other seasonal produce from UK growers. (More on Daylesford Organic Farm in a minute). 
Some of the menu is served on enamel green banded plates, finished with mismatched but obviously well thought through napkin colours. There's also a fancy watering can at the bar, because, well, why wouldn't you? It's a Bamford stay, after all. 
The Fox at Oddington's restaurant subtly splits into areas with different vibes. For a more buzzy atmospheric scene that's a bit more 'London', you'll want to head to their breezy light brimming extension, replete with floor to ceiling glass, indoor trees, and winks to its equestrian heritage, known as The Saddle Room. 
But don't think for a minute that's where all things equestrian end. Trotting well and truly into the other grub spaces, you'll find a whole ruffle of zingy colourful rosettes lining the ceiling of The Tack Room, as well as a string of antique horse paintings, maps, and Dutch Golden Age style cow portraits, that onlook a bit more of a quiet, low key vibe. 
Not to overwhelm you with all things horsey, you'll see some wry counterbalances in the form of a David Shringley style print, indie craft ales, and bold forest green licked walls, and many spindly wildflower bouquets that squash out any empty surfaces.
STAY
The suites are inspired by the surrounding flora and fauna of the Cotswolds. I stayed in 'The Den' (one of the six suites on offer) where you'll find painted trompe l'oeils of regionally specific leaves on the floor, giving the delightful illusion that some woodland nymph had just scattered them just for you upon arrival. (A good move — let's not lie, the 'rose petals on the bed' trope is a bit passé these days). 
A few nods to its Cotswoldian heritage hang about the place. Some antique but chic paintings of whippets and pigeons hang under an expertly renovated historically low beamed ceiling overhead. 
But you'd never describe The Den as historically dusty per se, but more of a sleek, beautiful 'rustic luxury' aesthetic (it's what Carole Bamford does best). So expect light shafting through the windows, brass finishes, that's all peppered with a palette of neutrals, linens, and beautifully distressed walls with subtle flecks of sage greens and oranges. 
Comfort is king here. The floor's layered with sheepskins, and rustic rugs. There's a gorgeous freestanding bath, and a four poster canopy bed, ribbon tied with gingham curtains, that's all tucked in with a chintzy embroidered quilt.  
A waterfall shower, well stocked with luxe Bamford products, walled in with earthy off-red tiling, is what you'll find in the bathroom. The hooks to hang your lovely waffled robe are actually branches, another nod to the 'nature first' vibes. A nice touch. 
It's also comforting to know that the room's not just nature first in visuals alone, because Carole Bamford doesn't do a limp handshake to sustainability. There's sheep's wool from Daylesford Organic Farm used to insulate the roof overhead, plus The Fox itself is powered by 100 per cent renewable energy, among a whole host of initiatives.
Then moving onto The Den's living room, find cream sofas, a fancy flat screen TV, as well as many bougie bits of paraphernalia you'll try and not get too excited by. Find in the fridge fresh milk from Daylesford Organic Farm in a cutesy ceramic corked jug, plus a Nespresso machine and milk frother to boot. 
It's all encircled with a glassed floor to ceiling situation that lets in the biophilic boon of the outdoors, with tumbling roses, pops of pink hollyhocks, and wild daisies. Then if you open the door out to The Den's own private terrace, you'll find candles, a chair and tables that's perfect for post dinner hangouts.
And it's all wrapped around in apple trees, poppies, and shrubbery on a multi-tiered dry stone pointed wall, so you needn't worry about privacy during your stay. (And yes, if you're wondering, you can bring your dog during your stay.) 
Some Insider Glimpses of the Other Suites at The Fox at Oddington
DO
You can curate your itinerary according to the tempo of your stay. If you're after a 'let's just vegetate and restore our energy' kind of trip, an amble around the chocolate box beautiful village of Oddington, awash with British honey-stained sandstone cottages and a church, will set the tone. 
Then, maybe follow it with a stroll to Daylesford Organic Farm, the Bamford farm where it all began. To pre-warn you, it's a bit of a Disneyland for anyone remotely into eco-friendly chi chi delicatessen foods (it's Carole Bamford who you can thank for making organic non-homogenised milk a status symbol).
The farm shop is a kind of luxury interiors space, meets 'a place you can definitely buy a fun, thoughtful, and smart gift for anyone' kind of store, and is only a 25 minute walk away that's definitely worth going to. 
It's a very 'wellnessy' space too, with loads of massages and the like on offer, ask at The Fox at Oddington, for more details. Plus Daylesford Organic Farm runs a host of events, like the Harvest Festival that's coming up mid-September. 
Daylesford is Celebrating the Autumn Harvest with a Two Day Festival 
But if you're wanting something a little more high octane, The Fox at Oddington has some very pretty sage green bikes you can borrow on request to explore what the Cotswolds has on offer. A fifty minute cycle takes you to an aesthetically beautiful spot for wild swimming that has crumbling Gothic ruins with the River Windrush running alongside.
The Best Outdoor Swimming Spots in England
You'll want to plug into Google Maps: 'Minster Lovell Hall and Dovecote' for directions, you'll know if you're on the right path if 'Old Swan' comes up next to it. 
And, since it's still a dovecote, you'll literally see white doves fly about. So all in all, it's a bit of a Medieval hazy dream (and a best kept locals' secret). But if the heatwave's still scorching, grab a water bottle and sunscreen before you go because there isn't much shade en route (hence the heatstroke). 
Rooms from £225 per night includes breakfast, Market Garden or Farm Tour at Daylesford Organic Farm (on Thursdays), with a 10% discount on the Cookery School courses, floristry workshops (excluding guests hosted ones) and treatments and classes at the Bamford Wellness Spa. thefoxatoddington.com
SEE MORE