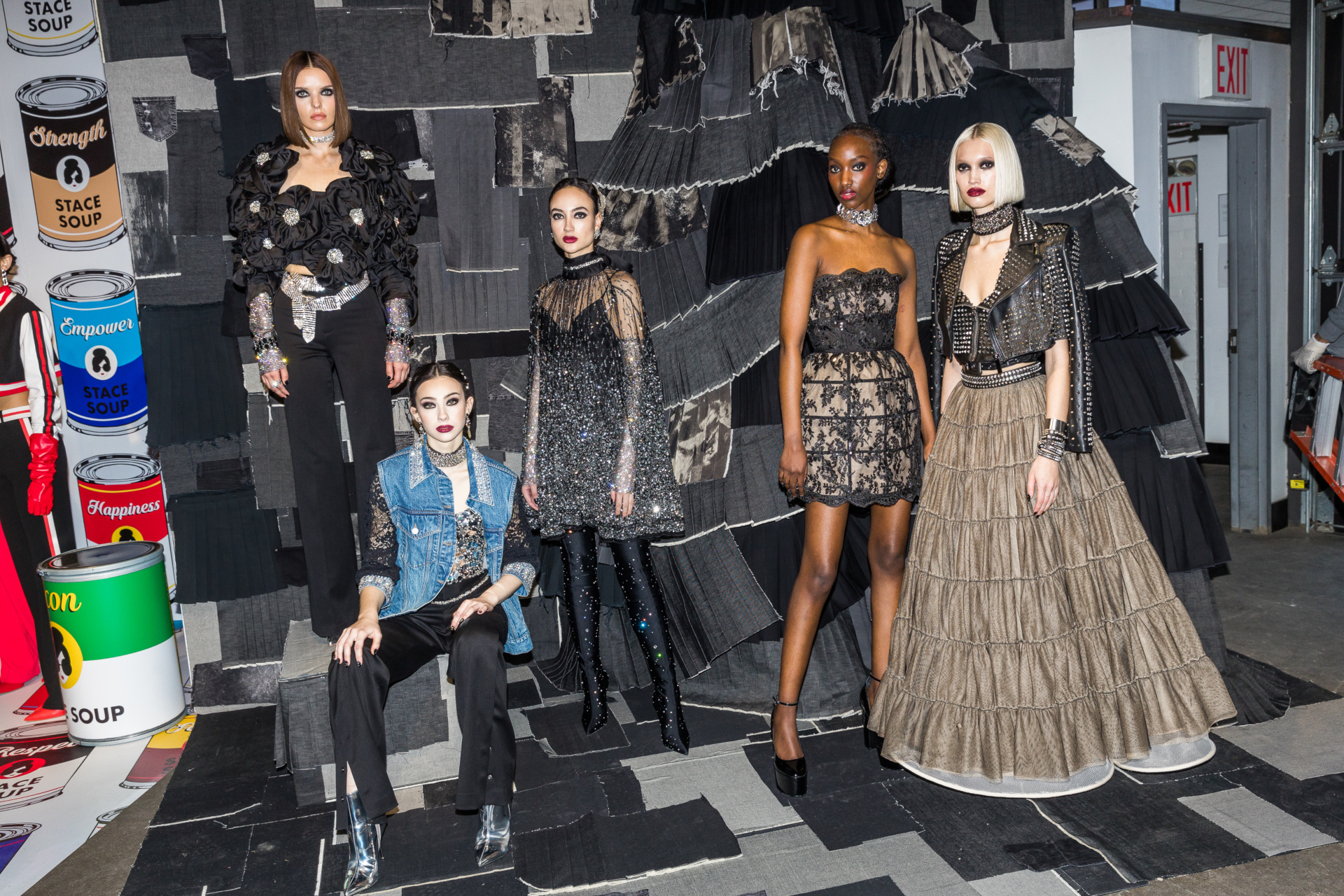 Gothcore Was The Unexpected Hero Of New York Fashion Week AW23
Fashion was back in black this season
Gothcore has been a high style priority for the trend-obsessed ever since we saw Jenna Ortega strut onto our screens as Wednesday Addams in Netflix's Wednesday – and it seems the countercultural icon has continued to inspire designers across the pond at New York Fashion Week this season. See the trend through the lens of four different designers that took NYFW AW23 by storm, from sophisticated glitz and glamour to grunge and urban tailoring.
Gothcore Was The Unexpected Hero Of New York Fashion Week AW23
alice + olivia
Stacey Bendet, Creative Director of alice + olivia, looked closer to home when it came to crafting the brand's AW23 collection. 'I find that fashion is often looking elsewhere for inspiration, but, in fact, America is where a lot of forward fashion eras took place,' Bendet said in her show notes. 'We created denim, we moved fashion into contemporary design, we created social media and lead the way for what defines pop culture and trends.' A celebration of Americana, the collection tracked fashion moments from 1950s ball gowns and corsets all the way through to 60s brocade, 70s bell bottoms, 90s grunge and early 2000s Y2K trends.
This condensed history of fashion is blended with design elements that bring everything back to the present, placing emphasis on the ways American heritage and American fashion inspire each other. As one of the biggest forecasted trends of the 2020s, gothcore is representative of the next chapter in American fashion. Bendet gives gothic detailing a bit of an understated role in the collection, fusing it with elements of old school glamour, punky grunge and modern silhouettes. Studded leather jackets and corsets perched neatly on top of metallic tiered skirts, bunches of silky black corsages (decked out with diamante pistils) created sculptural blouses, liquorice-striped A-line gowns were adorned with layers of velvet, lace and pearls and models could be seen wearing black, fingerless opera gloves in black leather and lace.
Rodarte
A gothic fairy-tale awaited audiences at Rodarte's AW23 show in the Williamsburg Savings Bank, where silver chandeliers cast an eerie glow over tables set with silver glitter-adorned trays of bread, fruits and sweet treats on silver tablecloths. This season's collection was inspired by faeries, with illustrations of the creatures created by co-founders Kate and Laura Mulleavy's mother cast as in print across a number of gowns.
But unlike the cute faeries we know from films and books, these were a lot darker – and cooler – than your Disney Tinkerbell. Rodarte's gothic fairies hit the runway in a series of fluid evening gowns with a largely monochromatic palette, complete with Morticia Addams bell sleeves, lace overlays, velvet finishes and bat-like wings. Victoriana also made its way into the visual language of the collection, with deep, V-shaped insets, white lace capes and satin top hats. Rodarte pressed their stamp into the gothcore trend with an added edge of weirdness, with models dressed in massive amorphous coat-dresses made from metallic fringing in shades of silver, black and gold.
Carolina Herrera
Exploring the interconnections of discipline and grandeur through the life of Empress Elisabeth of Austria (otherwise known as 'Sisi'), Carolina Herrera's AW23 collection by Wes Gordon was a celebration of high drama through glamorous eveningwear. Opulence, and its meaning in design, wearing and visual impact, took centre stage in the form of voluminous ball gowns, sculptural silhouettes and a rich colour palette dominated by various combinations of black and white. Half of the collection was made up of these singular colours alone, placed in contrast with garments cast in vivid shades of rose, scarlet, lilac, gold and moss – another nod to the disparities between the Habsburg court and romantic vision held by Sisi – but both alluding to an appreciation for beauty and glamour.
Gordon made sure gothic elements interwove throughout the collection in a play on shape and texture: black jumpsuits were adorned with heavy, silky skirts and corsages, tulle puff dresses were crafted in stripes of black and white, and floor-length knit dresses featured lace pattern-work and tonal Swarovski crystals. Depth was created through the use of light-catching embellishments and airy fabrics, as well as clashing textiles and colours. The process let these garments fill the space they were in, giving them a grand presence befitting an empress.
Anna Sui
Anna Sui took her audiences on a trip back to one of America's most famous historical clubs, the Peppermint Lounge, with her AW23 collection. A hotspot venue in 1960s, serving as a stage for the likes of the Ronettes, the Beach Boys and the Beatles, the Peppermint Lounge was the place to go for live music and dance. Speaking to Vogue, the designer explained that she wanted to bring this piece of club history to the attention of Gen Z and Millennials: 'I feel like this generation is missing out on that intimacy of having a place to go and dance. Where you don't have your phones, and you're just checking each other out and getting dressed up for each other.'
Interspersed between 60s-inspired pieces like slips, minidresses and stockings were elements of 90s grunge and playful embellishments from the early noughties; miniskirts were worn with silver cowboy boots, baggy white denim trousers were paired with a matching jacket and boucle skirt-suits came in shades of Barbie pink. There was a touch of something gothic hiding in the mix as well, though. Straps and midriff cutouts on colourful sequin dresses were replaced with yards of black lace, Victoriana-esque scalloped patterning adorned sets of black socks and tights and babydoll-style accents (lace edging, silky ribbons) took over more than one slip dress.
SEE MORE
You can catch up on the NYFW AW23 schedule at nyfw.com
Featured image: alice + olivia NYFW AW23