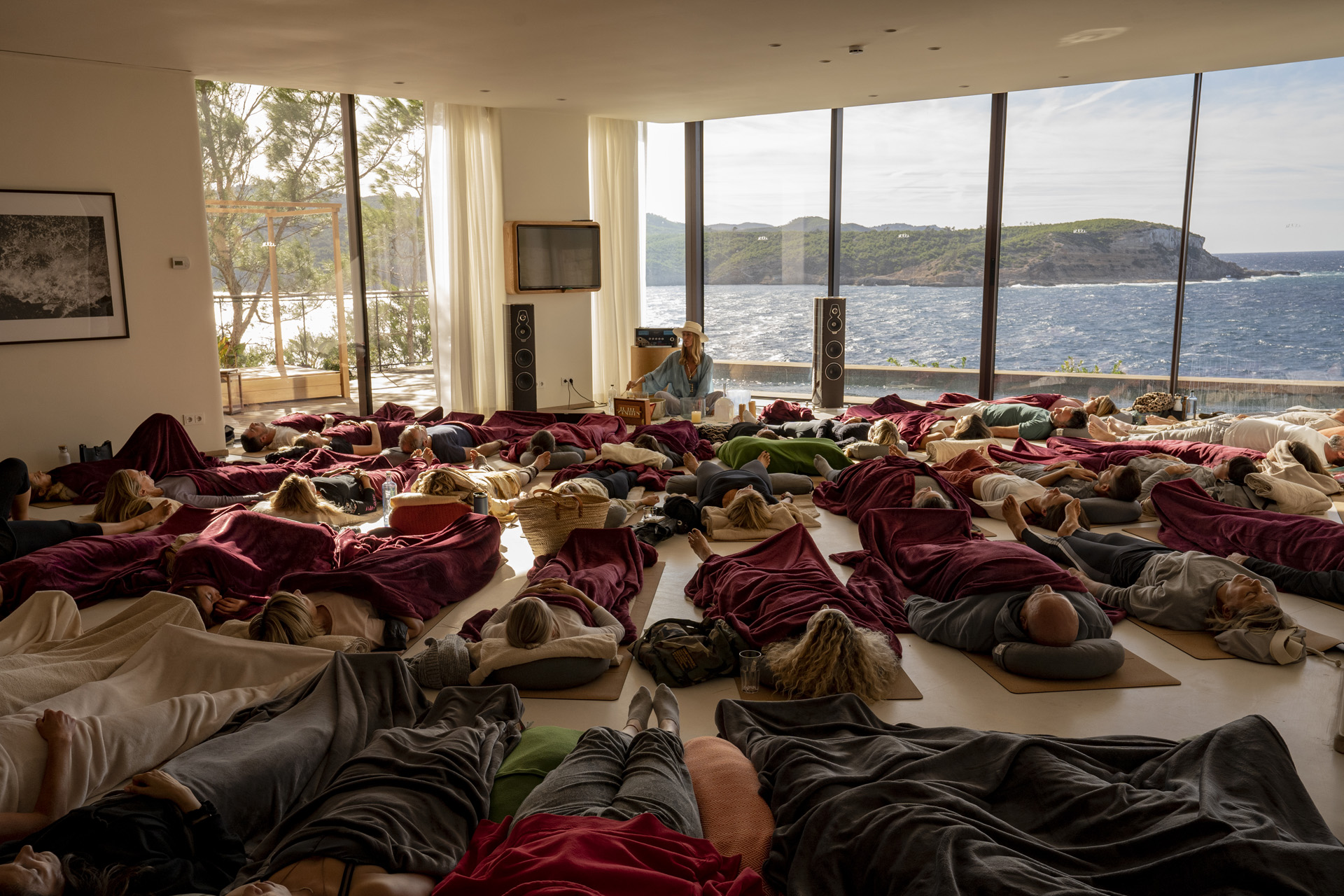 Breathing New Life Into Wellness: Alma Festival at Six Senses Ibiza – Review
---
Kate O'Brien heads to Ibiza to experience the best in wellness
With industry leading keynote speakers, therapists and practitioners, head to Ibiza not for your party-hit but for the ultimate wellness hit at Alma Festival, says Kate O'Brien
Read the C&TH Responsible Tourism Guide
Review: Alma Festival at Six Senses Ibiza
Ibiza has long lived off its reputation for hard partying, but it seems that, in our quest for deeper meaning and belonging, the dial has shifted and a bright new chapter is dawning. Welcome to Alma by Six Senses. Spread over three days and set above the crystalline water of Xarraca Bay, on the northern tip of the island, Alma was purposefully curated to offer guests the chance to nourish body and soul with delicious, primarily plant-based cuisine, while they move, dance, breathe and dream in a fresh new way, cosseted in Six Senses's collection of elegantly earthy homes tumbling into the sparkly blue Mediterranean below. 
The 2022 Alma Festival line-up featured an eclectic blend of soul-stirring sound healing and energy medicine sessions, high-intensity workouts, psychedelic breathwork, transformative yoga and ecstatic dance – all followed by enlightening fireside conversations fuelled by the latest research and wisdom from the world's leading voices in health and wellbeing. 
Six Senses wellness pioneer Anna Bjurstam believes that society (even pre-pandemic) is living through an epidemic of isolation, and people are desperately seeking meaningful connection with something greater than themselves. 'This lack of close friendships has led to unprecedented rates of loneliness and heightened feelings of vulnerability,' she adds. 'We know how difficult it is for people, and the warmth and energy generated when people come together in a community like this is quite special – we go deeper and that energy and the close friendships you make stays with you.' After all, in the words of guest speaker and professional biohacker Dave Asprey, 'we are wired for friends'. (Biohacking is all about coercing your body into staying younger and stronger for longer).
Malaysian entrepreneur and CEO of Mindvalley, Vishen Lakhiani hosted his 6-Phase Meditation practice, while Michael Acton Smith (aka Mr Calm) offered his take on the future of mental health. With over 130 million users, the light is bright on Calm now, but mental health wasn't much discussed when he co founded the Calm meditation app 10 years ago. 'We didn't take ourselves too seriously, then,' he said, smiling. 'And maybe that touch of levity and lightness helped people realise that there are baby steps they can take to feel better in and about themselves.' 
While the keynote speakers enjoyed their moments of glory, it was the smaller sessions that sparked much of the fireside conversation, most especially an open discussion on the impact of our everyday fashion choices on the planet with fashion scientist Dr Amanda Parkes of innovative material science brand Pangaia and actor-cum-activist Lily Cole. 'In an ideal world, there would be no fast fashion,' Cole said. 'But I'm a pragmatist and would rather see fast fashion trying to do better with more circular business models.'  
In between Kundalini activations, Medical QiGong with Per and Blanka Van Spall, 'The Class' (the cathartic workout experience with US-native Taryn Toomey), and Catie Miller's muscle-sculpting blend of ballet, pilates and cardio, there were vitamin IV drips, infrared saunas and mini-facial treatments by Sarah Bradden, one of the industry's most respected cosmetic acupuncturists – all peppered with deliciously spicy shakshuka, Flu Fighter shots of turmeric and ginger, fresh seasonal plates, cold cuts, locally pressed oils and divine home whipped ice creams and desserts. 
One final sunset session led by Amsterdam-based mindful movement group Sanctum (recently launched in London) was enough to keep those dopamine levels well topped up. Wearing Bluetooth headphones, you couldn't fail to get drawn into these curated workouts. Part aerobics, part dance – and an absolute joy!
Part of the rationale for Alma was a calling for belonging as we have become so disconnected from what makes us human – from our bodies, from nature and from our communities. And it was all here: the wellness, the soul nourishment, the energy, and the connection. You could almost taste it.
We know now that wellness is not a word: it's a way of living that enhances body and soul and shifts the mindset a little. 'Group sharing over the fire is where the magic happens,' Bjurstam says. 'This is when people really connect, where they laugh, cry and celebrate life and return home forever changed from where they started.' 
After all, our ancestors always came together in sound and celebration. They knew that life was better when shared with others. And, finally, the wider world is waking up.
BOOK IT: The next Alma Festival will take place from 2–5 November 2023. almafrequency.com 
Featured image: Sound Healing at the Cliffhanger Mansion at Alma Festival (c) Lighuen Desanto.