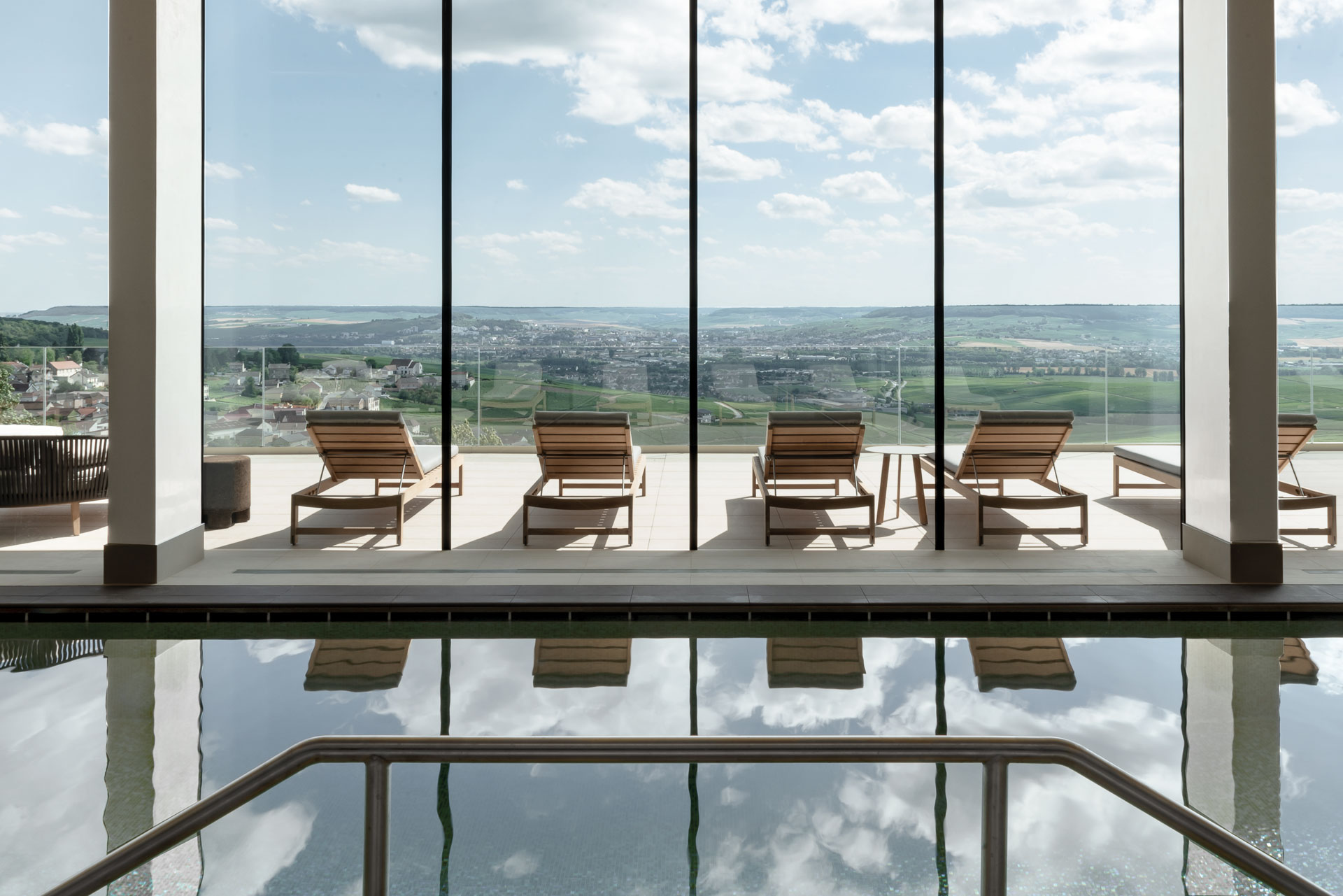 Best European Spas for a Quick Fix
---
A short flight and a long flop make thee dream destinations for a quick fix. Check out our edit of the best European spa holidays.
The Best European Spas for a Short Trip
Maslina Resort
Hvar, Croatia
Hidden among olive groves above a secluded bay on Croatia's Hvar Island is Maslina Resort, a five-star boutique retreat built on a philosophy of 'Mindful Luxury'. Sustainable and sexy, every detail of this 50-room property oozes conscious design, from architecture crafted in Brac stone, wooden bicycles and hyper-seasonal menus to plastic-free, compostable amenities – think razors made from vegetable pulp and wafers of wrapper-free handmade soap. Décor sings with a soothing palette of neutral tones and the warmth of local wood, offset by dreamy views of the sapphire Adriatic, cleverly ushered in at every turn.
Wellness is a pillar of the resort and the same impressive commitment to sustainability continues in the Pharomatiq Spa, a refreshingly bright and airy temple to body and mind spread over two floors. Wander down a white wrought iron staircase, through a jungle of lofty giant palms, and you'll find a hair salon, thermal wet areas, various chill out zones and a Zen garden. It's here that guided meditations and yoga take place, offered daily and free of charge, along with more unusual experiences such as sound baths and vibrational healings with the in-house reiki master. Even reluctant gym bunnies will be seduced by the gorgeous fitness room. Overlooking the bay and fitted out with electricity-free, wood and leather kit by sustainable equipment pioneers, Nohrd, join one of the classes or hop on to the water-powered rowing machine and serve up the sound of waves crashing onto shore with every stroke: bliss.
The 'garden to skin' concept means guests can pick their own organic herbs for use in a bespoke treatment or select one of the fabulous homemade tonics and essential oils – don't leave without a bottle of the Essence of Youth serum, a game-changer made from immortelle.
BOOK IT: Doubles from £317; maslinaresort.com
Monastero Santa Rosa
Amalfi Coast, Italy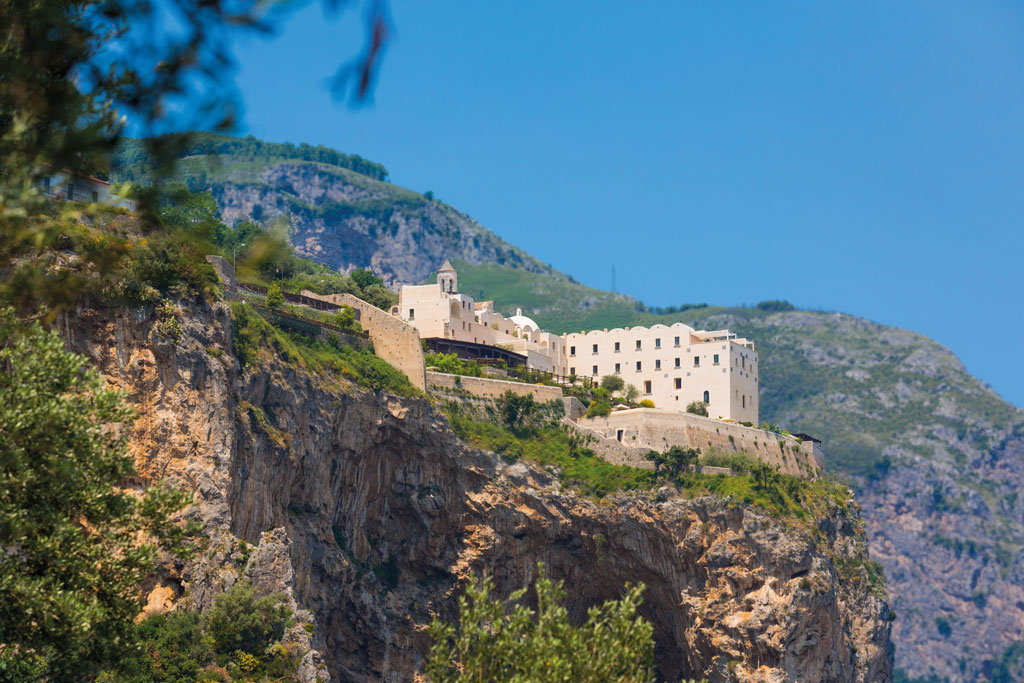 If you're scared of heights, you might be startled by the vertiginous clifftop setting, but the spectacular Amalfi coast and insanely glamorous hotel – romantic, smart and with a spa that oozes soul – will soon quell any anxiety. The 17th-century former convent has just 20 beautiful bedrooms and is surrounded by landscaped terraces leading to a jaw-dropping infinity pool – there are Instagram-worthy views all round. Inside, carefully curated antiques sit alongside contemporary art pieces in a clever blend of old and new. The spa boasts original, vaulted, double-height ceilings and uses products made by monks from the divine Farmacia Santa Maria Novella.
The signature massage, with its melted candle wax layered onto your skin, feels almost transcendental. For romance, head to the huge couple's spa suite with its own rasul, steam room, wet and dry treatment couches and terrace. Equally decadent, at the Michelin-starred Ristorante Il Refettorio, chef Christoph Bob prepares superb fare sourced from the surrounding Campania region (don't miss the famous breakfast puff pastries). This is definitely not the place to diet.

BOOK IT: Doubles from around £348 B&B. monasterosantarosa.com
Longevity Alvor
Algarve, Portugal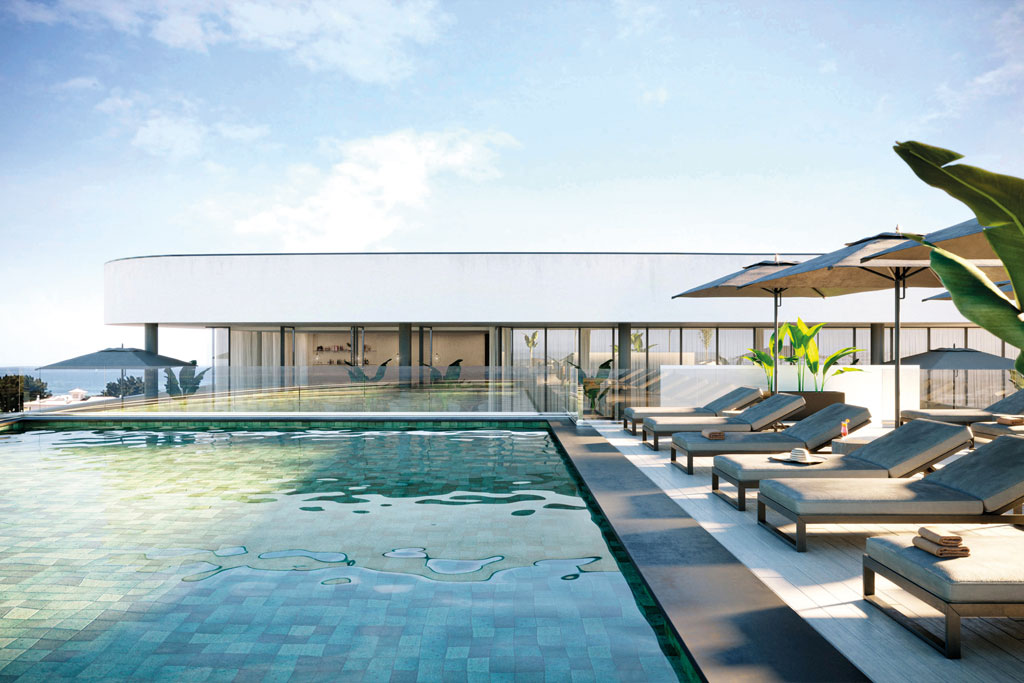 Set in the hills of the Algarve, with an epic view of the coastline from the rooftop infinity pool, Longevity Alvor is less hotel- with-spa, more tip-top health clinic with beautiful rooms attached. Of course, there's the usual gamut of massages and facials, but we advise signing up to one of the hotel's signature programmes, such as Metabolic Optimisation or Essential Detox. These include full-blown medical consultations with on-site doctors and clinical treatments specifically designed to help counter any health imbalances you may have accrued from life in the real world.
Treatments aside, it would be foolish to miss out on some of the daily group activities that can help reset your mental space (and are fun to boot) – there's everything from chilled-out sunrise yoga and Tibetan singing bowls to bracing hikes to the beach. And rest assured that healthy needn't mean boring when it comes to food – the restaurant serves up some supremely imaginative dishes, all of them deeply delicious and deeply good for you, since they're designed to alkalise your body and help expel toxins. If you can't resist a wee tipple, at least the wine is organic.
BOOK IT: Five-night Longevity Essential Detox from £1,815pp. Doubles from £170 B&B. longevityalvor.com
Amazoe
Peloponesse, Greece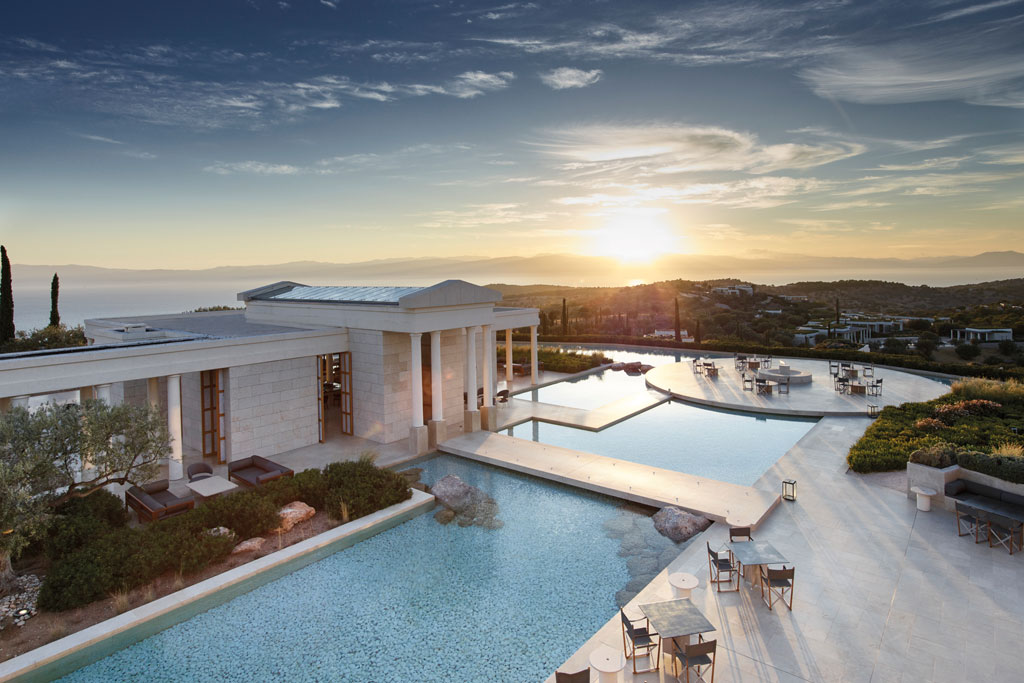 If minimal aesthetics and unapologetic luxury is your MO, you'll no doubt overlook the three-hour transfer (or a swifter 25 minutes in the hotel's helicopter) from Athens to arrive at the overwhelmingly beautiful Amanzoe. With panoramic views of the Aegean, miles of columned walkways and lavender-adorned flat roofs, it's a sight to behold. Each of the 38 classical pavilions and eight stand-alone villas offers a modern oasis, complete with its own pool, private garden and personal chef. Although in-room treatments are available (and very tempting), you won't want to miss the sanctuary of the light-filled spa.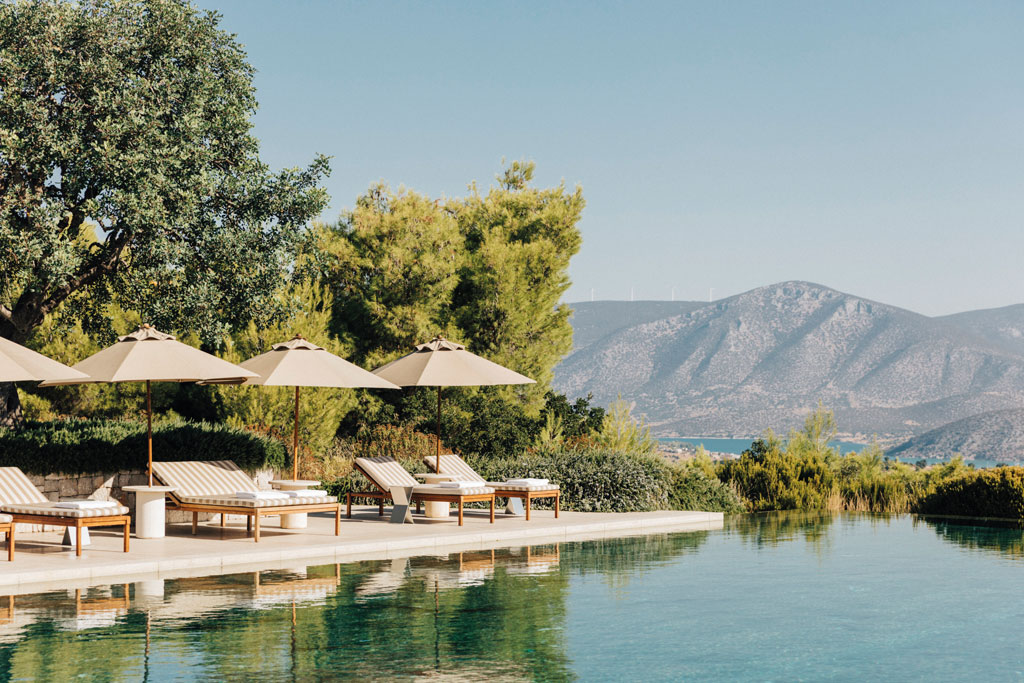 Combining ancient Greek beauty rituals with Asian techniques, the nature-focused treatment concept of grounding, purifying and nourishing follows the Aman group's ethos and weaves throughout their expansive menu. Treatments begin with a complimentary purifying smoke ceremony followed by a foot ritual and range from targeted lymphatic facials to hot stone massages. You can even carry on the experience at home with Aman's new, own-brand, bespoke skincare range, packed full of healing tree oils and alkalising oxygen-rich spring water. What could be better?
BOOK IT: Doubles from £964 B&B. aman.com
Verdura
Siciliy, Italy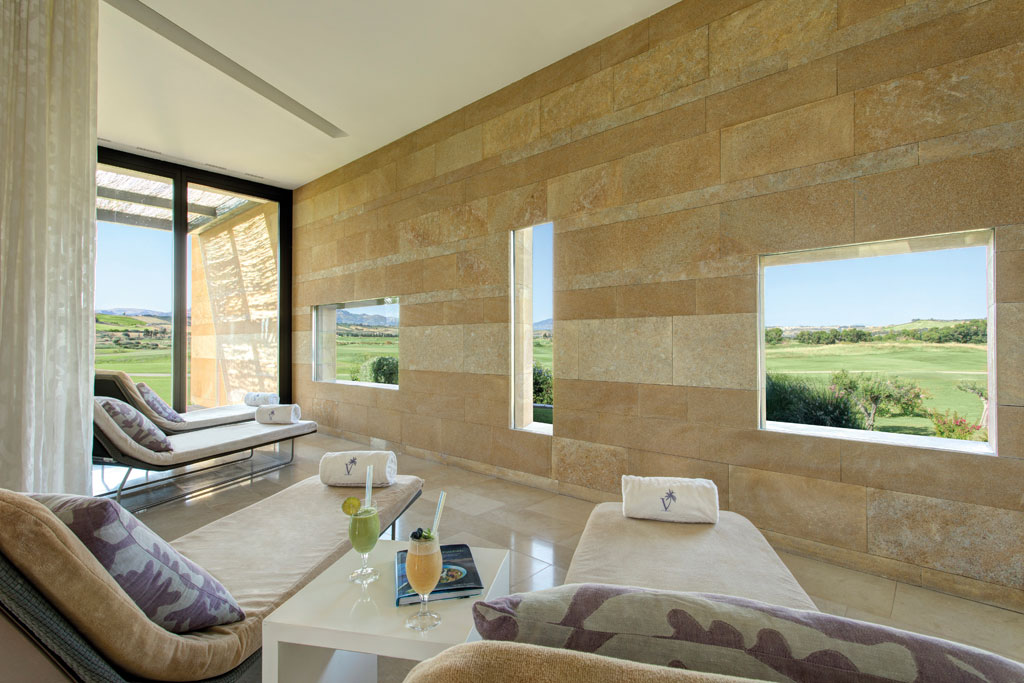 Sicily is abundant in delicious ingredients – nuts, oils, citrus fruits and herbs thrive in its warm winters and hot dry summers. In Verdura, a Forte resort on the south-west coast, you don't just get to eat the local produce: Irene Forte, daughter of Sir Rocco, has used oranges, almonds, rosemary and lemons in her own skin and body product range and spa treatments. Grown on the local farm, they're transformed into unguents whose names make you feel naturally beautiful: pistachio lip balm, hibiscus serum, pomegranate mask and blackcurrant body oil.
The spa itself, a flowing space of natural stone and glass, is designed to put you in touch with nature: floor-to-ceiling windows look out across acres of grassland to the sea beyond. You can sauna, steam or swim – there's an elegant 70m pool – or perform a circuit of the four outdoor thalassotherapy pools, whose varying salt densities restore health and help respiration. There's only one downside: the tinkle of the handcrafted Sicilian bell that heralds the end of your treatment and return to the real world.
BOOK IT: Luxury rooms from around £292 B&B. roccofortehotels.com
Lefay
Dolomites, Italy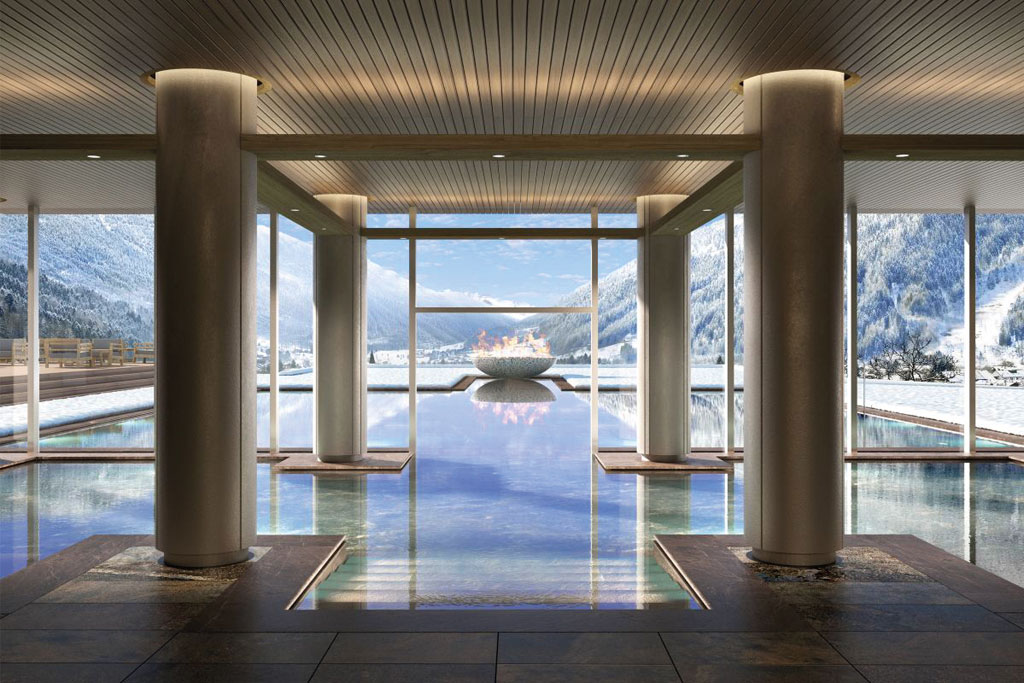 Nestled into the mountainside on a UNESCO World Heritage Site in the Italian Dolomites, surrounded by forest, Lefay's newest offering is an elegant architectural juxtaposition of traditional and modern. Warm and cosy, with sleek accents and tonal touches, the 88-suite sustainable resort blends perfectly into the surrounding landscape. Situated in the popular ski area of Madonna di Campiglio, it provides a chic base to relax and recharge (there are firepits aplenty) after a hard day on the slopes, especially with a vast and impressive spa on offer.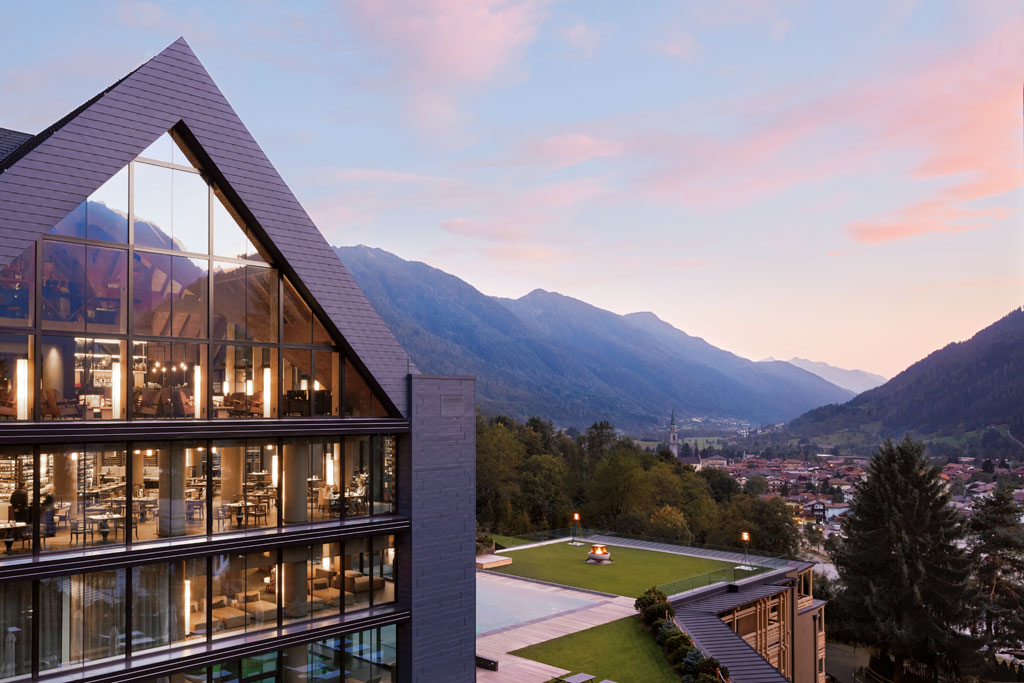 Set over three floors and incorporating the brand's wellness method of traditional Chinese medicine with Western techniques, it's a spa-goer's paradise with eight saunas, three pools, healthy snacks and a variety of authentic herbal teas, all catered to your emotional disposition. With immune-boosting breathing classes, low-calorie menu options and skin-loving juices to boot, you'll be tempted to give the slopes a miss altogether. But if you do crave a little movement, wrap up and explore the nearby waterfalls on the hotel's electric bikes – before retiring in front of your in-room faux fire to watch the clouds roll in over the peaks.
BOOK IT: Junior suites from £281 B&B. dolomiti.lefayresorts.com/en
Les Prés d'Eugénie
Eugénie-les-Bains, France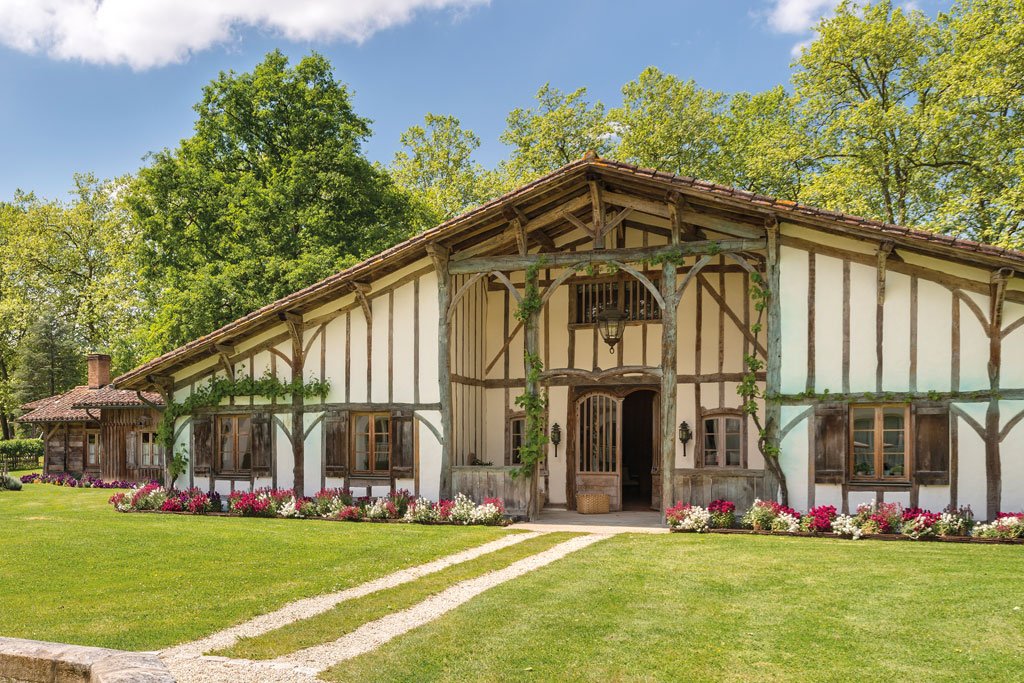 Ever since 1861, when Empress Eugénie, wife of Napoleon III, bestowed her patronage on Eugénie- les-Bains' thermal springs, this sleepy town in south-west France has been a must-visit for fixing health issues. Then, in 1974, French superstar chef Michel Guérard opened Les Prés d'Eugénie. Housed in a supremely chic 19th-century manor house, this Relais & Châteaux retreat is a masterpiece of French country elegance, with Guérard's phenomenal food its crowning glory. A pioneer of nouvelle cuisine – the 20th-century movement that lightened traditional French cooking – Guérard created a shining example with his cuisine 'minceur' (slimming).
Tuck into succulent beef salad, creamy risotto with vegetables and shrimp, and even a chocolate pudding – all in a three-course menu with less than 600 calories. Then continue shedding pounds in the garden spa, where thermal water baths in solid marble tubs in front of crackling log fires are divine, with a bouquet of rosemary, thyme and sage to exfoliate your skin. Next, aid digestion with a white clay bath – like wallowing in warm thick cream. The body-shaping hydrotherapies sting (a little) but stick with it, those high-pressure jets of water are breaking down unwanted fat cells. Sisley, the brand of choice, works wonders for further toning.
BOOK IT: Doubles from around £210. lespresdeugenie.com
Royal Champagne
Champillo, France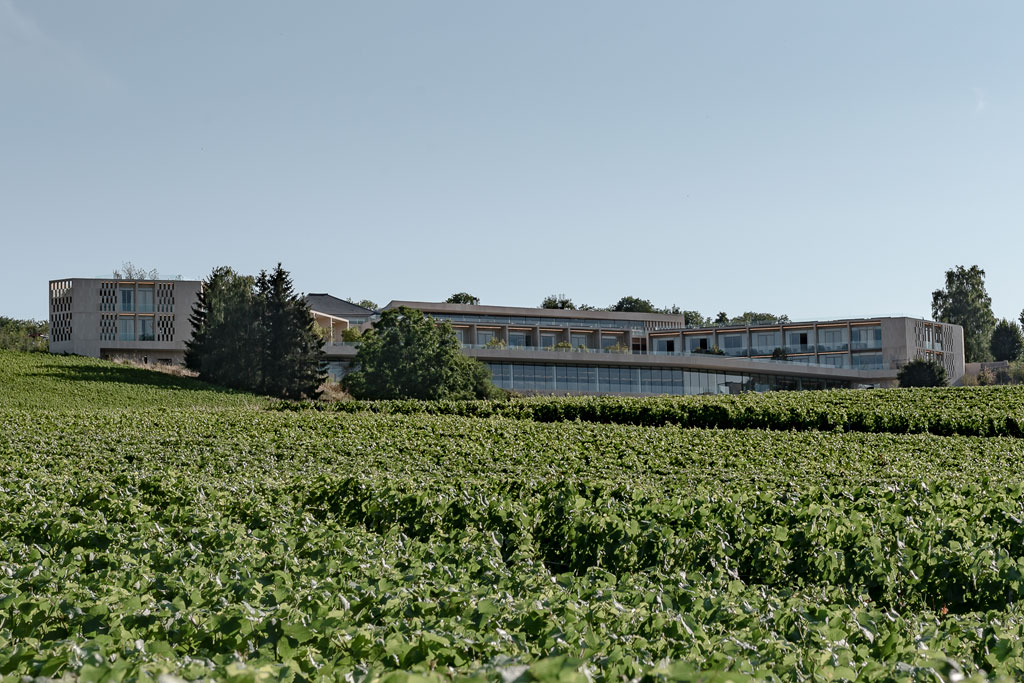 Champillon is an area of north-eastern France that's as famous for its champagne houses as for its lack of high-class accommodation – that is, until 2018's reopening of the renovated Royal Champagne Hotel. Trips to and from the Champagne region's most iconic houses are organised with exacting precision by the hotel staff. Refreshingly, the emphasis is on behind- the-scenes harvesting processes as well as tasting sessions of niche and often underrated releases that rarely leave the locale. Most visitors come for these fizz-based pursuits but end up staying (and invariably returning) for the spa, which spans a vast and unparalleled 16,000sq/ft.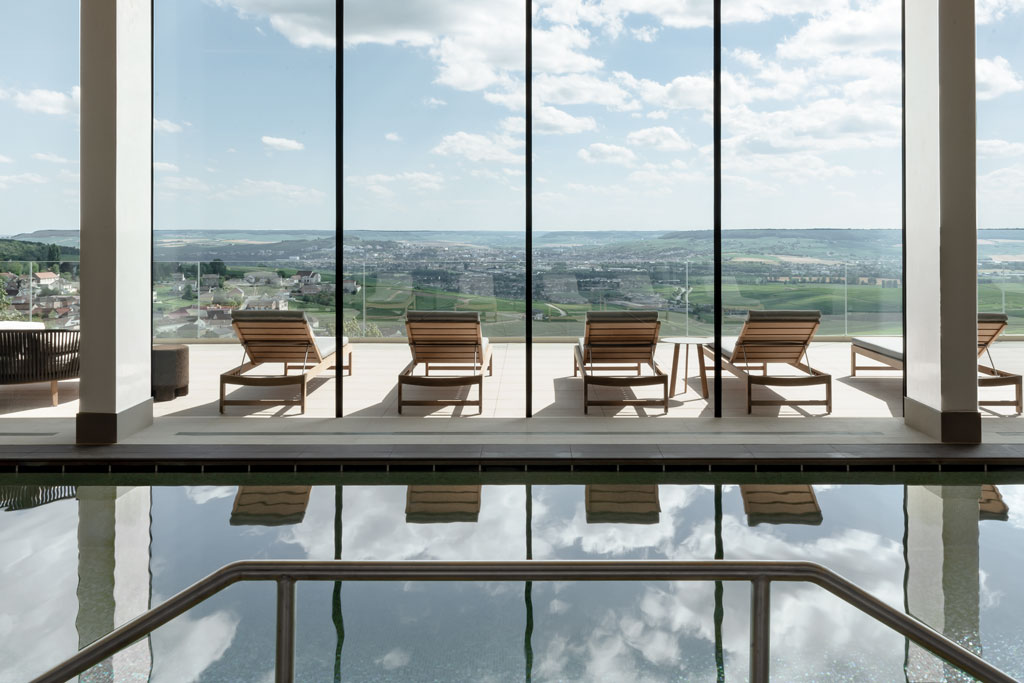 Partnered with cult French brand Biologique Recherche, the wellness centre has nine treatment rooms, a calming eucalyptus-infused sauna, and – the jewel in the crown – two temperature-controlled, chaise longue-lined pools looking out onto the very vineyards that prompted the hangover from the night before. It's a tale of two villages: a perfect place to enjoy one too many coupes of the finest champagne at dusk, and an idyllic setting in which to sleep it off the morning after.
BOOK IT: Doubles from around £320 B&B. royalchampagne.com
Cheval Blanc
St Tropez, France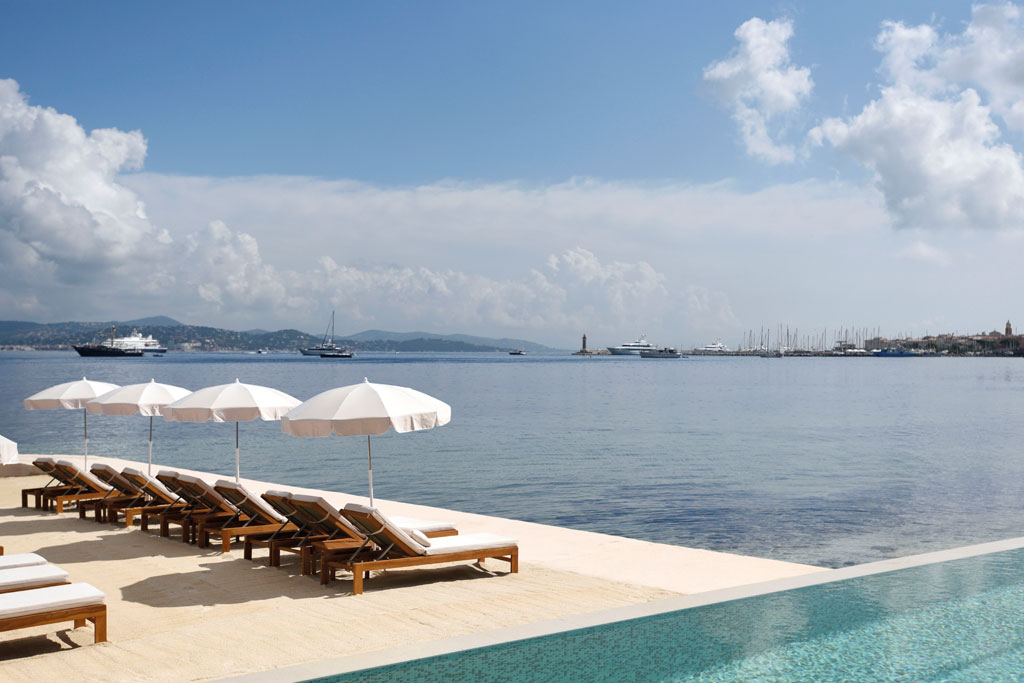 Small, chic and surprisingly cosy, St Tropez's Cheval Blanc is a must-visit haven for those seeking solace from the cosmopolitan town just a short walk away. Once a private holiday home, the newly refurbished bolthole possesses a boutique quality that keeps royals and celebrities coming back year after year. With a small private beach, homey nooks, nautical touches and bespoke scented candles, the 31-room abode has all the charm you'd expect from a location steeped in character and history. The understated glamour extends to the hotel's Guerlain spa.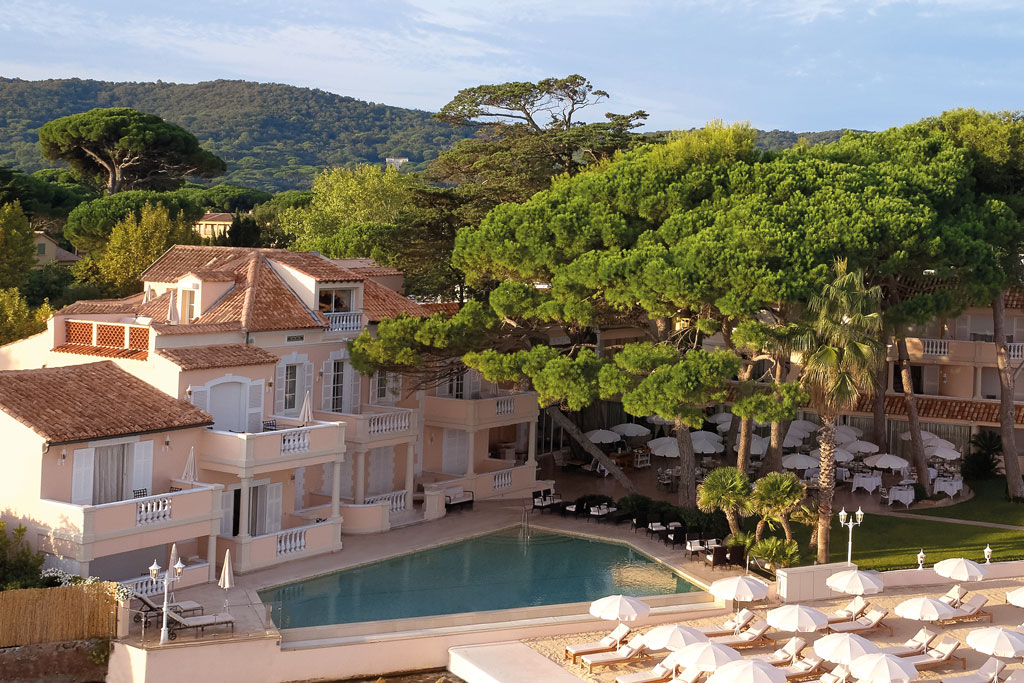 With a heavy focus on the location, each treatment is aimed towards relaxation and aftercare for those long, lazy days in the sun. After choosing your scented oil, lie back and enjoy the summer sounds of Sade and tinkling French jazz as your aches and pains are kneaded and rocked away. While transformation isn't the aim of the game here, it's an indulgence perfectly suited to a Riviera getaway. And if that wasn't enough, you can even have your complimentary Guerlain sun care applied for you by the spa therapists without leaving your sun lounger. Well, it is St Tropez after all!
BOOK IT: Doubles from around £505 B&B. chevalblanc.com
THE C&TH SPA GUIDE:
Best Spas for a Total Transformation / Spas for Weight Loss / Best Spas for Exercise / Spas for Mental Health / Alternative Wellness Spas