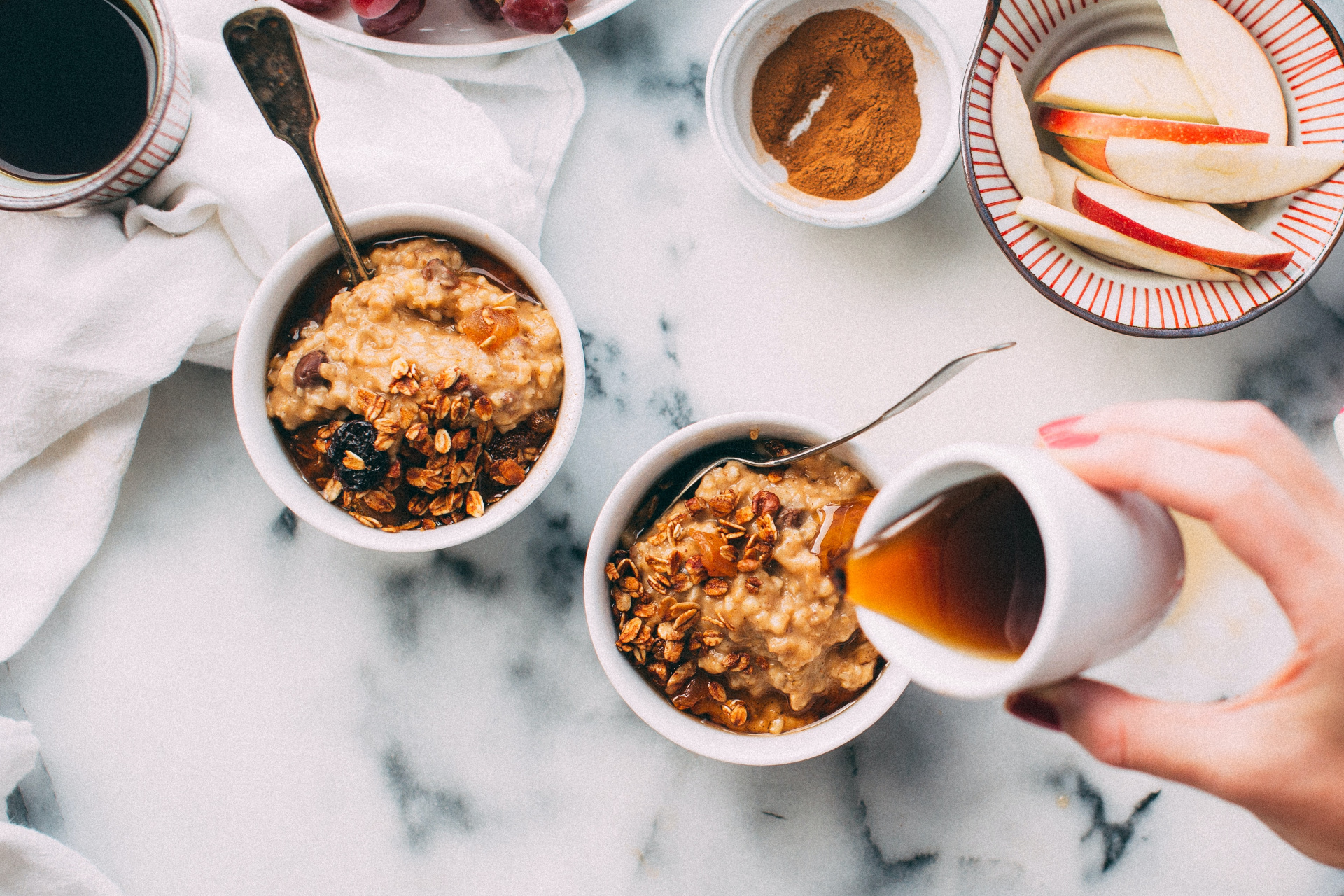 Ingredient Of The Week: Maple Syrup
Kick off April with something sweet
Each week, plant-based cook Bettina Campolucci Bordi, founder of Bettina's Kitchen, gives us the lowdown on a particular seasonal vegetable or ingredient, offering details on its history and health benefits, plus cooking tips and a recipe. This week it's maple syrup, which is in season from late winter to early spring (find out more about what's in season here).
Ingredient Of The Week: Maple Syrup
What Is Maple Syrup?
A syrup made from the sap of (as the name would suggest) maple trees, maple syrup is one of the most delicious and versatile natural sweeteners available – and it has been a staple in many cultures around the world for centuries. As a chef and food writer, I have always been fascinated by the depth and complexity of flavours that maple syrup can bring to a dish. Whether you are using it as a glaze for roasted veggies, as a topping for pancakes and waffles, or as a key ingredient in baking recipes, maple syrup adds a distinctively rich and nuanced sweetness that is truly unparalleled.
One of the things that makes maple syrup so special is the fact that it is made entirely from the sap of maple trees. This sap is collected in the early spring, when the trees are just starting to come out of their winter dormancy. It is then boiled down to remove the excess water, leaving behind a thick, syrupy liquid that is packed with flavour and natural sweetness.
Maple syrup comes in a wide range of flavours and colours, depending on where it is produced and how it is processed. For example, syrup made from sap collected early in the season tends to be lighter in colour and milder in flavour, while syrup made later in the season is typically darker and richer. Additionally, the type of maple tree that the sap is collected from can also have an impact on the final flavour of the syrup.
How Can We Use It?
As a chef, I am always looking for ways to incorporate maple syrup into my cooking and baking. These are some of my favourites:
Roasted Veggies
One of my favourite ways to use it is as a glaze for roasted veggies, such as cauliflower or butternut squash. To make a simple maple glaze, I start by combining equal parts maple syrup and Dijon mustard, along with a pinch of salt and some freshly cracked black pepper. I then brush this mixture over the meat before roasting, and the result is a beautifully caramelized and flavourful crust that is both sweet and savoury.
Breakfast Baking
Maple syrup is also an excellent ingredient to use in baking recipes, as it provides a unique depth of flavour that can't be replicated with other sweeteners. Of course, maple syrup is perhaps most commonly associated with breakfast foods like pancakes, waffles, and French toast. And while these classic dishes are certainly delicious on their own, adding a bit of maple syrup takes them to a whole new level. When making pancakes or waffles, I like to add a bit of vanilla extract and cinnamon to the batter, along with some maple syrup. This gives the batter a warm and cosy flavour that is perfect for a lazy weekend brunch.
Butter
Another way to use maple syrup in breakfast recipes is to make a simple maple butter. To do this, I start by softening some unsalted butter in a bowl, and then stir in some maple syrup, a pinch of salt, and a bit of vanilla extract. I then whip the mixture together until it is light and fluffy, and then serve it alongside toast.
Recipe: Almond Galette with Cream & Peaches
Looking for a delicious and indulgent dessert that's also plant-based this Easter? Look no further than this almond galette served with cream and peaches. This recipe is packed full of flavour and texture, from the crispy almond flour crust to the creamy oat-based crème fraîche topping and juicy slices of fresh peaches. The addition of lime zest, vanilla, maple syrup, almonds, and mint leaves adds a refreshing and sophisticated twist to this classic dessert. Best of all, it's gluten-free and easy to make with a food processor. Whether you're serving it up for a special occasion or just a sweet treat at home, this almond galette is sure to impress.
Makes 4-6 servings
Ingredients
For the galette:
240g almond flour
240g white gluten-free flour
120g coconut sugar
zest of 2 limes
240ml grapeseed oil (or any flavourless oil)
For the topping:
400g oat-based crème fraîche, coconut whipped cream or plant yoghurt
zest of 2 lime
2 vanilla pod (bean), split and the seeds scraped out, or 2 tsp vanilla paste or extract
2 tablespoon maple syrup
4 peaches, stone removed
handful of almonds, chopped
handful of mint leaves
zest of 1 lime
Method:
Preheat the oven to 180°C. Line a large baking tray with baking parchment.
Mix the ingredients for the galette together in a food processor to combine well until it has a sticky consistency. Place the dough between two pieces of greaseproof (waxed) paper and roll out until it is 1cm thick and about 20–25cm in diameter.
Remove the top layer of greaseproof paper from the galette and place on an oven tray. Bake in the oven for 15 minutes until golden. Remove from the oven and leave to cool. When cool, place the greaseproof paper on a serving plate and cut around it so as not to break the pastry.
Mix all of the topping ingredients (except the peaches) in a bowl and then spread the mixture over the cooled galette.
Thinly slice the peaches into half-moons and arrange over the topping, then scatter with almonds, mint leaves and a sprinkle of lime zest.
Chef's Tip: Put the components of this dish together just before serving to keep it nice and fresh.
Featured image: Jennifer Pallian, Unsplash