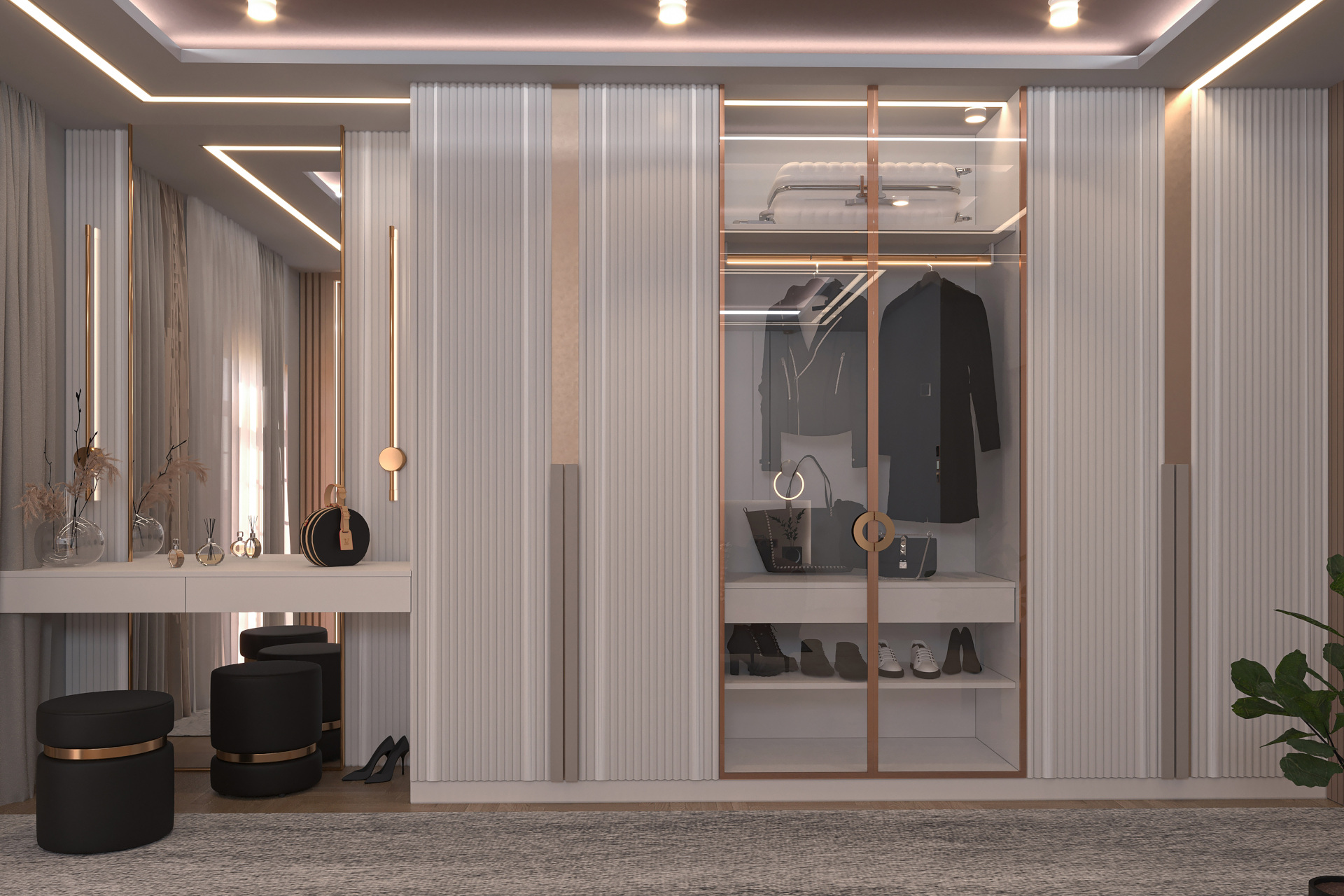 How To Build The Perfect Capsule Wardrobe
---
Cultivate a closet you can be proud of
If you've found your way here, chances are you're in need of a wardrobe micro-makeover. Ditch the clutter and keep things simple with a curated selection of clothing staples that you can wear through the seasons for every occasion. Sound intriguing? Read on for our guide to building the perfect capsule wardrobe.
What Is A Capsule Wardrobe?
A capsule wardrobe is a curated collection of essential clothing items that can be mixed and matched to create a variety of outfits. Rather than be comprised of a large number of trendy, disposable items (that often go out of style quickly), a capsule wardrobe is made up of a smaller number of high-quality, versatile pieces that can be worn for multiple different occasions.
The concept of a capsule wardrobe stems from fashion designer Donna Karan, who famously created a collection of interchangeable pieces that could be mixed and matched to create different outfits in the 1970s. These days, you'll see people using the same ethos to simplify their wardrobe and reduce clutter, while still looking stylish and put-together. You can see many of them popping up on TikTok – the searches for 'capsule wardrobe' and 'capsule wardrobe beginner' currently has over 367 million and 1.1 billion views  respectively – showing how they have curated a minimal wardrobe that works for them.
How To Build The Perfect Capsule Wardrobe
Planning
1. The Clear Out
First things first: be brutal with your wardrobe and clear out anything that doesn't – in the words of Marie Kondo – spark joy. If you have items in your wardrobe that you never wear or haven't worn in years, then you likely won't be pulling them on anytime soon. Stick with items that you know you like and wear regularly, and with the rest either donate, recycle or give away to friends and family.
2. Assess Your Lifestyle
Before you start adding anything to your capsule wardrobe, it's really important to consider the demands of your lifestyle. Think about your daily routine, your job, your hobbies and your social life – these activities will shape your wardrobe and help you figure out exactly which items you need, so that you can avoid buying things unnecessarily.
3. Define Your Personal Style
But that doesn't mean you can't balance your needs with your wants; if you have a distinct personal style you want to shine through, then by all means slot that in where you can. Your personal style can encompass colours, patterns or internet aesthetics you resonate with. If you're not sure where to start, we'd recommend compiling a Pinterest board of outfits and images you like until you have a better visual idea of what you're after.
Choosing Your Items
1. Choose Your Base Colours
In order to have a capsule wardrobe you can mix and match infinitely, you'll need some building blocks. Start by selecting a neutral colour palette for your capsule wardrobe, such as black, white, grey and beige. This will act as your base and allow you to add colours, textures and patterns without worrying about clashes.
2. Select Your Key Pieces
Your key pieces are the ones your wardrobe will centre around, and should ideally be flexible enough to dress up or down depending on the occasion. Timelessness is also key, as it means you can continue to wear them for much longer and throughout shifting seasons and trends. Items that fall under this category include blazers, jeans, white shirts, trench coats and a classic LBD.
3. Add Some Personality
Now for some fun. Once you have your key pieces, you can start adding a couple of items that resonate with your personality. Whether that's a bight green jumper, some statement jewellery or a trendy bucket hat is up to you.
4. Build Around Your Key Pieces
It's time to finally build your outfits. Now that you have your key pieces, you can put together different outfits and build your capsule wardrobe around them by adding shoes, bags and other accessories you usually like wearing.
To Consider: Buy New Or Secondhand?
Before you start purchasing for your capsule wardrobe, see whether you can avoid buying everything new. Consider shopping secondhand; try charity shops, vintage stores and secondhand shopping apps. Alternatively, ask if your friends and family have anything they don't want anymore that they'd be willing to gift or sell you – or even swap something of yours for.
Going Forward
1. Edit And Refine
As you wear your new capsule wardrobe, make sure to regularly review and edit your selection to ensure it remains functional and that you like it (there's no point in sticking with it if you don't enjoy what you're wearing, after all). This is also a good opportunity to remove items that no longer fit or that you no longer wear, and add new items that complement your existing wardrobe.
2. Consider The Season
Most of your wardrobe should be adaptable for the seasons, but depending on the climate where you live you may have to swap out some pieces so that your wardrobe is functional. Don't feel restricted by your wardrobe; no one will make you wear shorts in winter or a heavy jumper in summer.
3. Keep Your Original Ideas In Mind
Remember, the key to a successful capsule wardrobe is choosing high-quality, versatile pieces that can be mixed and matched to create a variety of outfits. If your preferences change over time, that's perfectly fine – but make sure you're still keeping your original goals and ideas in mind. Try to avoid compulsive shopping, if you can.
4. Do You Need It?
Stop and think before you add something to your cart: do you really need it? Think about whether you are just buying for the sake of it, or if you need it for something specific. Try to envisage this new item in your wardrobe, and see if you can conjure up at least three outfits using it. If you can't, you'll probably struggle to find ways to wear it. The same thing goes for occasionwear. Items for events can easily be rented for a short period of time (see the best rental platforms here), meaning you don't need to buy them outright and then have them clog up your closet for the foreseeable.
Featured image: Mahmoud Azmy, Unsplash