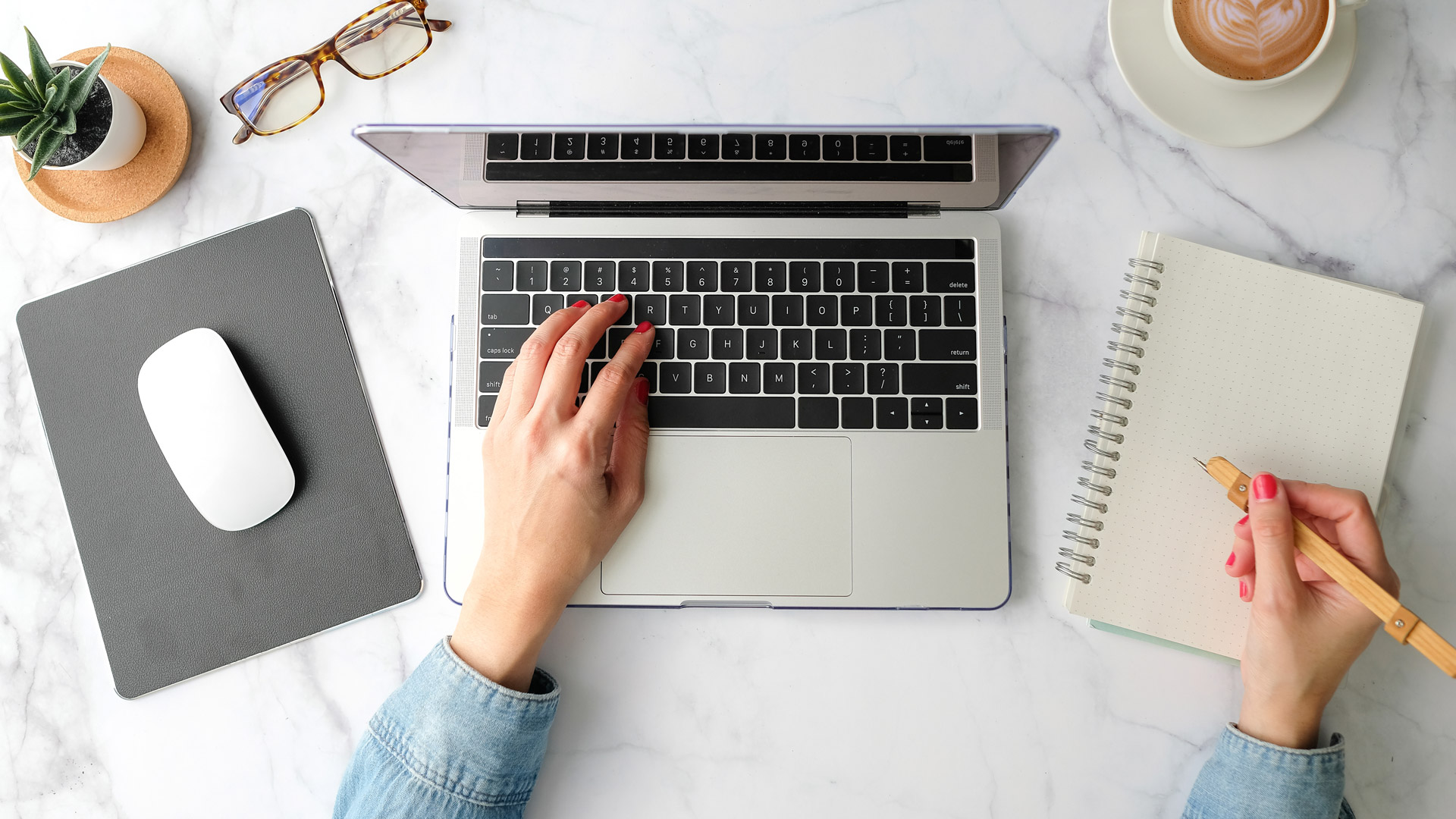 Work From Home Burnout: What Is It & How To Avoid It
Has the novelty of WFH finally worn off?
Are you suffering from work from home burnout? We ask the experts how best to avoid it. 
As the pandemic confined almost all of us to our homes, WFH has become the new norm – but what was once perceived as a novelty, or even a luxury for some (goodbye commute, hello cosy loungewear), has swiftly become a subject of concern.
Limited contact with colleagues and an ever-thinning boundary between work and home life, combined with a general feeling of uncertainty surrounding the pandemic, has left many to experience what is being deemed as work from home burnout. And the stats speak for themselves: according to employee experience platform Perkbox, 79 per cent of British adults in employment commonly experienced work-related stress in 2020 – an alarming 20 per cent rise when compared with 2018's findings. So why is working from home bringing us to breaking point?
'Burnout happens when there is an imbalance in what we give out to the world and what we take for ourselves,' says Dr Elena Touroni, a consultant psychologist and co-founder of The Chelsea Psychology Clinic. 'In lockdown, between working, home-schooling and family time, it's easy for the boundaries between work and home life to become blurred. If we're always 'giving out' and not taking time and energy for ourselves, we can end up burning out.'
Sound like something you might be experiencing? Dr Touroni points to one of the first signs of burnout as exhaustion, which, she explains, can cause cognitive problems – difficulty concentrating and increased forgetfulness. Heightened anxiety levels (namely overthinking), mood changes, and relying on unhealthy coping mechanisms (such as over-eating or drinking) are also symptoms of burnout, she states.
But there are, as Dr Touroni tells us, things we can do to alleviate the effects of work from home burnout, from starting each day with a short mindfulness meditation (to acknowledge our emotional state), to drawing clear boundaries between work and home life. She also recommends scheduling in 'me' time, be that for a walk or a long bath – 'some time away to reset and recharge.'
'Make sure you do things that bring you a sense of wellbeing and enjoyment, as well as the things you have to do,' she says. Creating a plan for the day can also be of help. 'As human beings, we thrive off structure and routine. Creating a clear plan for the day helps us put healthy habits in place and get the most out of our day.'
Nutritionist and co-founder of MuscleMary, Stuart Jack states that there are a number of general lifestyle factors which can help to reduce the likelihood of experiencing burnout, from sleep quality to meditation and diet. Here, he shares the six key areas to focus on when mitigating the risks.
Stuart Jack's Guide to Mitigating the Risk of Burnout
Sleep quality
With a pending deadline, sleep can slowly drop down the priority list. However, from both a physical and mental health perspective the body needs sleep to function.
To ensure a high quality of sleep it is advisable to create an environment which is conducive to this. This may include limiting screen time before bed, not sleeping with your phone at your side to avoid disruption or the temptation to check emails, and having a regular sleep pattern of getting up and going to bed at around the same time each day. Furthermore, regular exercise, avoiding too much caffeine and having exposure to fresh air can all help improve sleep quality.
How To Sleep Better While Working From Home
Exercise
Exercise has a multitude of benefits both for mental and physical health. It can help with weight management, increase energy and through the release of endorphins, improve overall wellbeing. The best tip for building exercise into your current lifestyle is to find a form of exercise that you enjoy. You are more likely to stick to this and make it a long-term habit rather than continually forcing yourself to partake in something that gives you no pleasure or is an additional source of stress.
It is also important to make sure that exercise is prioritised at the same level as any other meeting and not pushed back if something else comes up. Spending time exercising will have benefits in the long term so see it as an investment in your future.
Diet
It's quite common that if you are stressed or rushed, eating habits will suffer. If you are tight on time, it can be easy to grab some fast food or skip meals entirely. However, if this is done regularly, the body will not be sufficiently nourished to carry out the activities of your busy life.
It might be worth trying batch cooking one or two days a week, so you have a healthy meal prepared if you are tight on time. Furthermore, services such as Hello Fresh are available so that the inconvenience of purchasing ingredients or thinking of recipe ideas is reduced.
In times of stress, individuals often increase their alcohol consumption. While alcohol is relatively harmless in moderation, overindulgence can lead to serious negative health consequences, so be mindful of what recommended alcohol intakes are and do not exceed this.
Meditation
If you feel like you are rushing around all day interacting on meetings or looking after others, meditation can be a great tool for helping calm the mind and being still. This time of reflection can help to cultivate a sense of stillness which can be referred to during times of stress. Meditation apps such as Headspace or Calm are a good place to begin.
Journaling
Self-reflection is important to understand how we are feeling and can be used as a tool for identifying if you are becoming overwhelmed. One of the best ways to practically do this is by noting down thoughts and emotions into a journal as it forces individuals to directly analyse on how they are feeling. Once emotions are written down, they can be reflected upon to take positive actions to combat and assess whether improvements are being made.
Social Interaction
In times of difficulty, we often look inwards and avoid social interaction or communication with others. However, it is important if you are struggling that you do reach out and speak to someone. This might be a family member or friend, but if you do not feel comfortable speaking with them then there is support available through various channels.
If you have been affected by any of the aforementioned, don't hesitate to get in touch with your GP or visit the NHS website for official guidance and support. 
Featured image: GettyImages
Working From Home: Top Tips / Wellness Trends 2021 / Best Home Workout Equipment